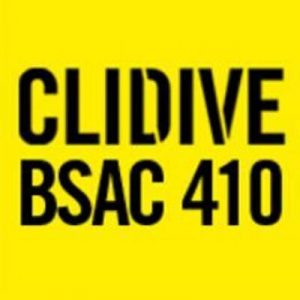 Welcome to the latest monthly Newsplash. We publish a short news blog each month, written for members, but open to anybody interested in the club. If you have any items that you would like mentioned or any suggestions for new content, please send them through to me: elaine@clidive.org.
From the Editor
Well, I've just about made it with getting this blog out in March, although it's a close-run thing, particularly as we'd forgotten the clocks went forward this morning!
So far it hasn't been the best start to the UK season, with the 'winter warmer' cancelled due to stormy weather, and our forthcoming Easter trip to Portland looking pretty cold and windy too. Still, we love the harbour wrecks…
Now's the time to start writing the trip reports. We try to include one for every club trip, but if you've been somewhere you really enjoyed and want to share the experience with your fellow Clidivers, feel free to send it through to me: elaine@clidive.org – it might give another member an idea for a holiday.
This month, we start the new season with more training, a few changes to charges, an update on the van, a new Regional Coach, lots of new qualifications, and much more. Read on!
From the Diving Officer
Easter is the beginning of the British diving season, when clubs start back into their regular diving programmes. This is traditionally when UK divers get their kit salty for the first time since the previous September/October.
It's also traditionally a time where there is a big peak of incidents. The main reason for this is that people overestimate their abilities after a good number of months with no practice – they were diving to 40 or 50 metres in September, so no reason they can't jump in now and do the same again, they think. The truth is that we need to get back into the swing of things before we try anything too adventurous.
Clidive provides you with plenty of opportunities for this. Firstly, the pool is available for everyone to use every Thursday. It's been good to see people coming down to practise with their kit, however it is noticeable that it tends to be the more experienced who practise and the less experienced that don't!
This is the ideal time of year to check that you can still clear your mask, to fine-tune your buoyancy again, and to practise some rescue skills. Drop training@clidive.org an email to let them know you're coming along and to check that there will be club kit available if you need it.
Secondly, Clidive plans it's trips so there are lots of opportunities early in the season to do some gentler diving that gradually builds to more adventurous dives over the weekend. The bank holiday trips are the best example of these. Booking yourself onto one or more of these will allow you to ease yourself into the season while getting some really great diving in.
Personally, I'm looking forward to diving at Easter in Portland. I'm hoping the wind is a little bit less than the forecast is currently showing, and that we have a safe and fun weekend. I hope you're all looking forward to your first UK trips of the year and that you pan so you're prepared for them and you enjoy them fully.
Have a great season!
Chris Wilson
May bank holiday trips to Plymouth
For those of you new to UK diving, Plymouth offers a fantastic range of wreck and reef diving accessible to all qualification levels.
World-class sites such as the Eddystone Lighthouse are fantastic dives for all, from beginners to old hands. Diving the wreck of the James Eagan Layne in the early season is such a treat, seeing how the winter storms have opened it up some more. To see the sort of things on offer have a look at these videos:
https://www.youtube.com/watch?v=RytX474pegA
https://www.youtube.com/watch?v=0YOXbUjRhX4
Many of us have fond memories of starting our UK diving career in Plymouth, and still love diving it decades later.
There are currently spaces on both trips. The first bank holiday weekend is 5-7 May – to book please email Brian on brian@clidive.org. The second May bank holiday weekend is 26-28 May – to book please email Eleanor on eleanor@clidive.org.
Isle of Man: Friday 28 September -Tuesday 2 October
In October Clidive will be heading off to the Isle of Man for a fantastic 'hard boat' trip (i.e. a commercial dive boat).
The Isle of Man is off the west coast of England, near Liverpool, and is known for it's dramatic coastlines, wrecks, monster crustaceans, seals and caves. We'll be spending a long weekend seeing the best of the dive sites.
Here's a video of what to expect: https://www.youtube.com/watch?v=KR4ByR29_TI
There are a couple of spaces left on the trip and we need a deposit of £100 within the next month to secure your space. This trip is suitable for Sports Divers or equivalent and above. Please email Preeda on preeda@clidive.org to book.
On the training calendar
New

 Photography course: 19 & 26 July and 2 August

This BSAC Skills Development Course teaches the basics of of using a digital camera underwater, including considering optical issues specific to underwater photography, the fundamental features of cameras and underwater housings, tips on shooting technique and practical tips for taking photographs underwater.

More information can be found here

Price: £35
Boathandling course: April
Theory:  (Ironmonger Row) 12 & 19 April
Practical: (on the Thames) 28 & 29 April, weather permitting
Price: £150.
O2 admin course: 26 April and 3 May
Theory and practical – Ironmonger Row – 7.00-9.30pm
Price: £10
For more information on any of the above, and to book, speak to Bart or email training@clidive.org
New season – a few things you need to know
Some changes to charges
The committee has been looking at the diving fees with a view to correcting a few anomalies and ensuring everything is both fair and easy for money marshalls to administer. From this season, the following charges apply:
Water & snacks on the boat: We will now charge a flat rate of £1/day. This was the average cost in 2017, and the change will simplify money marshalling. We're also reminding dive managers to try to make sure snacks cater for a range of tastes. Please let your DM know if you are allergic to chocolate!
Kit hire: this cost will stay the same, at £3/item/day, with a £10/day cap. However, it no longer includes transport in the van [see below]. NB In the interests of making diving as accessible as possible to new divers, we have kept kit hire costs the same for at least 20 years.
Kit transported in the van: both personal and club kit will now cost £10 per person (not per item) each way to all UK destinations. This corrects an anomally where it was more expensive to put your own kit in the van than hire club kit for a weekend.
Driving/travelling in the club van: Anbody driving the van to or from dive trips, including co-drivers (and whether towing or not) will no longer pay a share of fuel costs. This is in recognition of the value the van provides to everyone on the trip. Non-driving passengers will continue to pay the same costs as last year (this depends on destination).
Towing expenses: Anybody towing the boat a significant distance using their own vehicle will now be refunded by the club as follows: total fuel cost of the trip (with receipts) + 10p/mile of towing.
Launching: Anybody using their own vehicle to launch or recover the boats can claim £5 per launch/recovery as a token contribution to a new clutch.
The club van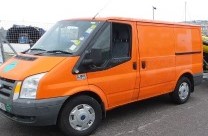 'Clidive Orange' is now kept in Hackney, and is managed by Nick Harrison. If you are managing a trip where the van is needed, or you need the van for other club business, contact Nick to let him know, and liaise with him about picking up a key.
Please don't just assume the van will be available. If Nick knows you need it he will avoid scheduling any repairs or routine maintenance for that period, and will make sure all the necessary boat kit is in the van ready for your trip.
Contact Nick on: nick.harrison@surveying-services.net.
…and don't forget to pay your deposits!
There's no excuse any more (unless you've spent all your pay on Easter eggs) – get your deposits paid now. But please don't forget to use the code for your trip, which can be found on the Dive Programme on the website. This makes the Treasurer's job much easier. Thank you!
Congratulations corner
Not everybody has 'vegetated' over the winter months – some people have been busy getting a few qualifications under their weightbelt. Big congratulations to:
Shady – now qualified as an Ocean Diver
Eleanor, Gillian, Susie, Phil and Bart for throwing a mean rope and passing the Lifesaver Award
Gregory for getting a Gold for his Trim & Buoyancy, and Preeda and Gregory for braving 4C water and -4C surface temperatures to do the Advanced Decompression Procedures course while the rest of us stayed indoors
Tom for completing the 'Diving for All' instructor course
Towing tested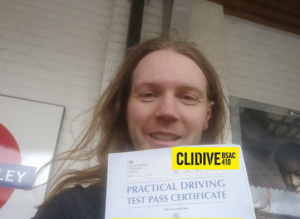 Congratulations and thanks to Chris for passing his Practical Driving Test, which means he can now tow the boats.
For those of you who are unaware, the rules changed a few years ago, so that only those of us who passed our driving test before 1997 can tow loads where the combined weight of the vehicle and trailer is more than 3.5 tonnes (3,500 kg). Unfortunately, our van + boat does exceed that weight, which means that only a small – and decreasing! – number of club members can tow the boats.
The club has decided the only way it can remain viable is to occasionally pay for a member to take the necessary training and the very rigorous practical test.
Boathandlers beat the beast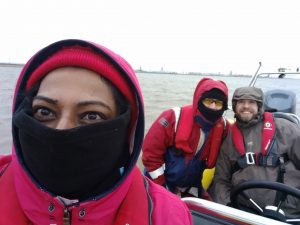 As usual – although with a bit of a delay – some members have been out on the Thames, practising their boat-handling skills.
Last year, I remember picnicking under blue skies, with not a breath of wind to disturb our sandwiches. This year, things were a little different as Richard and Preeda – who clearly loves the cold – braved strong winds and below-freezing temperatures to hone their 'doughnuts' and 'man over board' drills under Chris's supervision.
Lots of socialising
As ever, there has been a busy schedule of social events, including a very tasty international food evening, hosted by Athina and Dimitrios.
The Spring Lecture series also got off to a fine start with Dr Oliver Firth from the London Diving Chamber bringing us up to date on preventing, spotting and treating decompression illness (DCI).
…with more to come
The lectures continue on Monday 26 March, with Phil Page talking about all things Decompression.
On Monday 9 April we will hear from Gareth Lock, of Human in the System, on 'Just Culture'. Not sure what that is? Come along and find out!
Tickets £10 from Preeda@clidive.org
All social information can be found here.
Clidive instructor appointed Regional Coach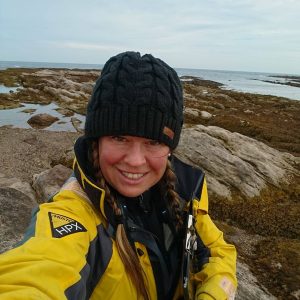 Our very own Gillian Bell has been appointed BSAC Regional Coach for the London Region.
Regional Coaches are experienced instructors who provide training and diving advice to clubs in the region, as well as guidance on club management.
They organise a range of regional training opportunities that may not be available through all BSAC clubs, and which are taught by a regional team of instructors.
As with most BSAC positions, it's all voluntary of course, and has to be fitted around the 'day job'. Gillian will also be one of only two women out of 15 coaches – let's hope a few more will follow in her footsteps.
Shhhh…
There have been a couple of Thursdays recently when we have seen quite a gathering in the foyer of Ironmonger Row before we head to classroom and/or pool. Nothing wrong with that!
But we can be quite a boisterous bunch, and possibly a bit too much for 'normal' people arriving for a quick swim or workout, or for the pool staff trying to go about their work.
The latter are a helpful bunch, and we don't want to antagonise anybody, so if you're having a laugh with your fellow Clidivers, just be aware.
And finally…
For those still using Facebook, Clidive President Keith Holman and (very) long-time member has started a new Facebook page about diving in the UK waters and the history of diving. Most of the pictures relate to Clidive.
Take a look, and you might get to influence the next BSAC election…