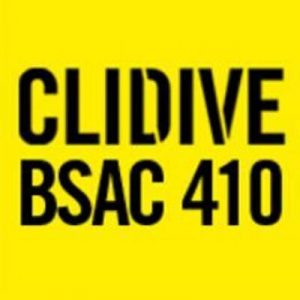 Welcome to the latest monthly Newsplash. We publish a short news blog each month, written for members, but open to anybody interested in the club. If you have any items that you would like mentioned or any suggestions for new content, please send them through to me: elaine@clidive.org.
Training
Reminder 1: Advanced Diver lectures: 15th & 22nd February
We will be running two of the AD lectures at 8.00pm. If you're a Dive Leader looking to develop your skills, particularly around dive planning, you can join these lectures now to set you on the road.
The AD course costs £80, including materials. For more information about what being a BSAC Advanced Diver involves, see here.
To book, contact training@clidive.org
Reminder 2: Sports Diver course starts 22nd February
The theory lectures will be held at 8.00pm, 22 February – 29 March (six sessions). They will be followed by pool sessions where you will learn further rescue skills and be taught how to use equipment such as delayed SMB and compass.
Cost: £210 (includes BSAC membership + 3 months Clidive membership)
For more information, go to the website: https://www.clidive.org/training/already-a-diver/, email training@clidive.org or speak to Bart or Richard.
Update on boat handling
A number of you have been enquiring about the boat handling practice over the winter. Bart hasn't got back to you with details because the boats were not in London and weren't ready to be taken out.
They are now at Gallion's Point Marina in East London, and he will be trying to plan some training over the coming weeks; so please stay tuned, and thanks for your patience.
If you want to do some boat handling training over the winter, please contact Bart via training@clidive.org.
Message from the Diving Officer – Chris Wilson
For those who don't see it, BSAC publishes a regular "Safety Talk" blog. I was reading the most recent one the other day – Continual development for divers and instructors (https://www.bsac.com/news-and-blog/safety-talk-continual-development/). I'd strongly recommend you all read it. It is, if anything, more relevant for the more experienced members than the less experienced.
In Clidive we're lucky to have a wealth of development opportunities. Formal training will help you move up to the next dive grade; complete a skill development course; learn to drive a boat; or become an instructor. Other, less formal development opportunities are also available: helping to run a trip or part of a trip; jumping in the pool to practise; diving with someone with more or different experiences – the list goes on.
To add to all these are the fantastic winter lectures where we've got experts from outside the club coming in and giving us the benefit of their experience and knowledge. I'm particularly looking forward to the upcoming talk from Gareth Lock on 9th April who will be covering this very topic! [See below for details. Ed]
Gareth is on a mission to bring 'Just Culture' ideas from aerospace and similar industries to diving. Just Culture is the idea that all people make mistakes – small and large – all the time, and that the more openly we talk about them the more we can learn from each other.
It's the idea that we shouldn't be criticised for having made the mistake, but rather we should state that it happened and then explore why, honestly and openly. It's the idea that, if we learn from these mistakes, the club can grow to be both safer in what it does, and able to execute more adventurous diving as a result of that safety.
While we're all wishing the nights to be shorter and looking forward to our first dive of the year, I encourage you all to think about one or two concrete steps you can personally take to improve your diving skills this year. If we can all manage to make some small improvements, then when taken together everyone will benefit from the extra skill, care and safety we develop.
Upcoming trips
Pre-season 'shake down' – Wraysbury, 3rd March
Instructor Steve Walsh is heading over to Wraysbury for the day, to do some drysuit familiarisation with a Clidive member, and has suggested that others might wish to join them.
This would be a good opportunity to blow the cobwebs and wash the mouse droppings off the kit, and test out that shiny new torch you got for Christmas.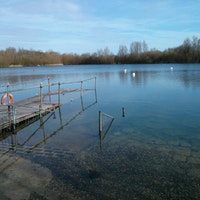 If you're not familiar with Wraysbury, it is a fresh water reservoir near Heathrow that we sometimes use for training . There are a number of shallow wooden platforms, and overall depth is 10m (if you're lucky). Viz isn't great, but it's got air, equipment hire, a small shop and a decent cafe on site. It's a 5 minute walk from Wraysbury Station. Find out more here.
If you're interested, contact Steve as soon as possible: clidivesteve@gmail.com
Winter warmer in Plymouth – 10th & 11th March
We're off to Plymouth for a weekend on InDeep's hard boats.
Get a few sneaky, easy winter dives in before the season starts properly, and enjoy a little of the local Plymouth hospitality at the same time. Please email Andrew on andrewmjohn@hotmail.co.uk to book.
Portland – Easter weekend
The British dive season officially starts at Easter. This year we're heading to Portland for the long holiday weekend (30th March – 2nd April).
With it's easy logistics, quick access to a range of high quality wreck and reef dives, and great local food, it's the ideal way to start to the season. Read about diving in Portland here: https://www.clidive.org/dive-trips/pleasure-in-portland-12-october/
There will definitely be something for everyone here. Please email Chris on chris@clidive.org to book.
Open water training in Spain
For those needing Ocean Diver or Sports Diver open water training there are two long weekends to Spain:
Thurs 12th – Mon 16th April
Thurs 19th – Mon 23rd April
It's going to be great diving in and around a marine reserve, and a great time of year to qualify before most of the UK trips have happened.
There are one or two spaces on the first weekend and a couple more spaces on the second weekend. Please email Gillian on gillianfbell@hotmail.co.uk to book.
Congratulations corner
Big congratulations to:
Giovanni Corriga and Susie Hall de Silva, who have both successfully completed the Instructor Foundation Course (IFC) and are now Assistant Instructors.
Tom Hughes, for passing Sports Mixed Gas and Explorer Mixed Gas
New Monday night lecture series gets under way
Following the highly successful 2017 lectures, the social team has already scheduled three events for 2018.
Time: 7.00pm – lecture 7.30-8.30pm
Venue: Troy Bar, 10 Hoxton Street, N16
Tickets: £5 (to cover speaker expenses and venue hire)
Tickets can be bought on Thursday evenings from Katy O'Connell, Anastasiya, Soni or Preeda; or contact social@clidive.org
Friends and family are most welcome.
19th March: Decompression Illness (DCI) – Prevention, Symptioms and Treatment
Dr Oliver Firth, London Diving Chamber
The increasing popularity of SCUBA diving has increased the incidence of DCI. As more people of varying ages and fitness dive more often – helped by technological developments to go deeper and for longer – doctors will see more cases of this condition.
Divers who have observed all the rules and styaed within thier tables or computer algorithms still develop DCI. No diver should think they are immune.
This talk explores how it can develop, how it is diagnosed and how it is treated. Dr Oli is also the author of FAQ Dive Medicine and contributor to Tanked Up magazine.
26th March: Deco in Depth
Phil Page, Advanced Instructor, Clidive
Ever wondered how decompression tables came about and what's happening with them today? Curious to know why conservatism adjustments are available on your computer and how they work? Ever watched in horror as the deco minutes rack up way faster than your no-stop time ran out? Ever noticed how some dives make you feel like Blackadder while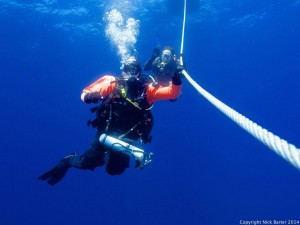 others turn you into Flashheart? If so, this talk's for you!
This presentation collates and delivers in bite-sized chunks the discoveries of your intrepid speaker on his tireless and continuing journey through the subject of decompression, drawing wisdom and edification from forums, books, periodicals, conversations with experts and, of course, the interweb. In other words, he Googled it so you don't have to.
9th April: An Introduction to 'Just Culture' in Diving
Gareth Lock, Director, Human in the System
Most accidents and adverse events in diving are not down to technical failures, poor buoyancy or incorrect trim, but rather a breakdown in communication, poor decision-making or a lack of situational awareness…or, more likely, a chain of events based around these human factors.
A Just Culture recognises that we are all human and fallible, and are trying to do the best we can given the resources and knowledge we have and the pressures we are under.

Gareth Lock is a retired RAF officer, an open circuit Advanced Trimix Diver and normoxic trimix CCR diver.
Escape the City: take a Clidive winter hike
Saturday 24 February
Contact Katy O'Connell on social@clidive.org for more details of this great day out.
Paying Clidive
Due to a routine regulatory change, Clidive's bank sort code is changing from 20-00-00 to 20-01-58.
If you already have Clidive set up as a payee and are making a payment (e.g. for a dive deposit), you may find the code changes automatically. Please don't worry – the money will end up in the right place.
The old code will continue to be valid for three years.