Welcome to the new, upgraded version of Clidive's longstanding newsletter. In the time I've been a club member, Newsplash has been on a Fleet Street-style journey, from photocopied-and-stapled, text-only 'broadsheet' to full colour pdf 'tabloid', and now fully online.
My intention is to publish a short news blog each month, which, while still aimed at members, will also be another way of showing prospective Clidivers what an active and friendly club we are. Unlike the old version, it will also not rely on a single editor finding the time to produce it – anybody with access to the blog will be able to do so.
If you have any items of interest that you would like mentioned or any suggestions for new content, please send them through to me: elaine@clidive.org.
Congratulations Corner
If you're on Twitter (@clidive), you'll have noticed that there seems to be at least a tweet a week showing a smiling member with their newly stamped log book – here are the new qualifications gained over the summer:
Chris Wilson: Instructor Trainer
Advanced Instructor: Gillian Bell, Phil Page
Advanced Diver: Bart Wagrowski
Sports Diver: Jon, Marco, Nick, Tarun, Matt
Ocean Diver: Ashish,  Katy, Tom, Laura, Deborah, Emilia, Dom
Gold Buoyancy Award: Natasha, Tomek
Training News
We've had a busy few months of training, with 22 Ocean Diver and Sports Diver trainees enjoying a sunny and successful weekend in Portland back in July. We are now in the middle of Try Dives – the second session is on 14 September – and Ocean Diver and Sports Diver courses will both start on 21 September.
Chris and Bart are working on the winter training programme as we speak, so expect to see news of that soon.
Dive Planning Meeting: 3 October (venue tbc)
We haven't finished the season yet – the boat will be heading down to the south of France on Friday 15 for two weeks, and Preeda will be leading a large group to Madeira in October. But planning will be starting for 2018 with a meeting on Tuesday 3 October. Come along if you are interested in running a trip; or if you have a suggestion of somewhere you'd like to dive, but need somebody to plan it with you; or if you simply want a sneak preview of what might end up on the programme for next year. An email will come round to members confirming the date and venue.
Committee Changes (and additions)
Our committee has expanded by two junior members over the summer, with the birth of a son, William, to Lucy (Secretary) and Neil (Diving Officer), and a daughter, Rowan, to our Chair, Ben and his partner Corie. Congratulations to you all!
Lucy has stood down as secretary, and Harriet Cross has kindly volunteered to take on the role.
The Van (aka Clidive Orange)
For those of you who don't know, the club van is now being managed by Nick Harrison and kept at our house near Bethnal Green. If you have volunteered to drive the van on a club trip or need it to be at the pool on a Thursday night, please contact Nick.
A great time was had by all…
…at the annual summer BBQ on 2 September, organised by our tireless social secretary, Preeda. Around 40 members and friends gathered in Lower Clapton, courtesy of Nick Barter and his wife Kylie.
The sun shone, the meat sizzled and the table groaned under the weight of mouthwatering food, supplied by Preeda and her posse.
As darkness fell, the mystery mixologist turned up, armed with pineapples.
It turned out that Anastasiya mixes a mean cocktail – sufficiently mean to get even our keenest beer drinkers swapping their pints…for pints!
Needless to say, the rest of the evening was a bit of blur…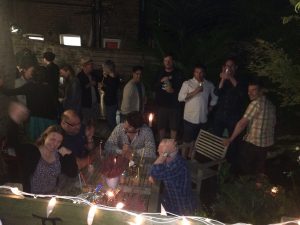 A huge thank you to our hosts, their long-suffering neighbours, and, of course, all those who slaved over the coleslaw to make the evening such a success.
…and finally, we've been doing a bit of diving recently
If you haven't been keeping up with the blog, check out the trip reports, which fill you in on just some of the rather exotic diving that's gone on so far this year:
Thanks to all those who took the time to write such brilliant trip reports.