By Caroline Green and Andrew Cooper

Well – what a trip! Lanzarote welcomed us with sunshine, warmth and a lovely sandy cove to base our diving from.
And also lots of opportunity for non-dive entertainment well into the night.  And a lot of the group took that opportunity!  Following the trip comes… the trip report. Here is a flavour of events from differing trip goers perspectives.
Thank you everyone for making it a great trip and to the contributors for their efforts found herein.
A first…..
By Preeda Harish Kumar
Gosh, running any dive trip is a challenge, but running a training trip for the first time with the largest number of people, was one of my biggest challenges.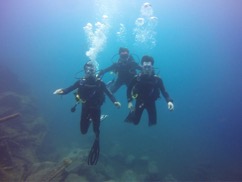 Well I love challenges, spreadsheets and lists – therefore I got to work by finding out who is coming, after that communicating with them to let them know who is who and planning is in progress, was the start of an incredible adventure!  Planning is key to every successful trip.  I had lots of lists and spreadsheets; as planning progressed these got bigger and bigger.
I didn't want the trip to be all serious, it made sense to give roles to some of the newer members to help them get to know their buddies and to make the trip a lot of fun.
When a trip is fun –the training becomes easier to manage with keen friends.  You can plan everything to the finest detail but you also have to have a plan b and c for the things that can go wrong.  The trip was successful with a lot of newly qualified Ocean and Sports Divers; I cannot wait to dive with you on a Clidive trip.  There has been a lot of proud moments, a lot of laughs and fun memories to cherish…
From Ironmonger Row to Ocean Diver (via Lanzarote)
By Philip Reed

There's a lot to be said for doing the open water section of your Ocean Diver (OD) qualification in warm water rather than cold.  Who needs a freezing quarry in the UK when you can have Lanzarote in early April, and temperatures of 25 degrees?  So a group of intrepid OD trainees set off, fresh from the perilous conditions of Ironmonger Row, to find out what proper diving was all about.
For me, it was my first dive in the sea, and it was a challenging and fascinating experience, but we were incredibly well supported by the instructors and encouraged by the SD trainees.  Lanzarote provides fantastic conditions for learning to dive, with shelving beaches for shore dives, crystal clear water and an extraordinary variety of marine life to watch.  The night dive was a particularly intense experience.  The local BSAC club, Safari, was well-located, well-equipped and well-run.
Much to my astonishment I passed, so now I only have the theory exam to do!  Above all the trip was fantastic fun, with great diving, great company, great food and much laughter. I must say that at the end of it I felt incredibly fortunate to have joined Clidive, and grateful for the patience and hard work of the instructors who organised everything, and made it possible for me to learn as much as I did.
How was it for you?
By Kath Biggs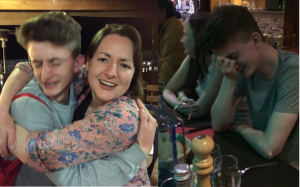 I keep being asked how the trip to Lanzarote was, and beyond saying that it was great, I've been struggling to explain why.  Some of this confusion is likely due to the honey rum, but also just so much happened that I end up waffling about my new son and Spanish buddy checks and clinging on to rocks and Johnny Depp and instructor dry suits being unzipped 6m under… you see the problem.
But what I can say is that it was an amazing experience, made great by the fantastic people (both Clidive and Safari Dive school). I laughed A LOT (even though I can't remember what about), but also learned a lot too, from such a great range of instructors and trainees alike. I'd recommend the trip to everyone, although I might have to skip 2018's trip to recover from this one.
Diving in the dark!
By Vineet Bewtra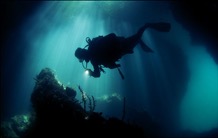 On Sunday night, two hook-wielding fishermen were summarily dismissed to allow our intrepid group to explore the unfathomed deep at night.  Ok, so it was about max 8-9m deep.  But still, being the first night dive for virtually all the trainees, there was excitement and apprehension in equal measure in the group.
Sploshing into the moonless Atlantic, the torch beams under the water were beacons of security – showing the rocks on one side, and petering out into the dark of the open ocean on the other side.  Made me realise the reason why folks carry backup torches, because you would not want to be there in the dark with flat batteries or a flooded torch!  Anyway, with light beams looking like scenes from the Abyss, all sorts of weird ghoulies were revealed, like cleaner shrimps, sea hares, and what looked like a big aquatic millipede.  Remembering what happened to Dru, the urchins' spikes took on an ominous "don't mess with me even accidentally in the dark" gleam.
No drysuits were flooded, although one party were forced to dump weights and abort early, while in another group, a SD trainee did an underwater loop-the-loop.  But there was even bio-luminescence reported – although it wasn't as bright as some of the cocktails under UV light so Mother Nature needs to catch up a bit methinks.  JD counted us all out, and then counted us all back in.
Dancing in the dark!
A picture paints a thousand words, and so perhaps we will let the images here do the talking! Save to say it was a very social trip where people got to know each other over sharing platters, through the medium of dance and the free-flowing conversation that goes hand in hand with inebriation.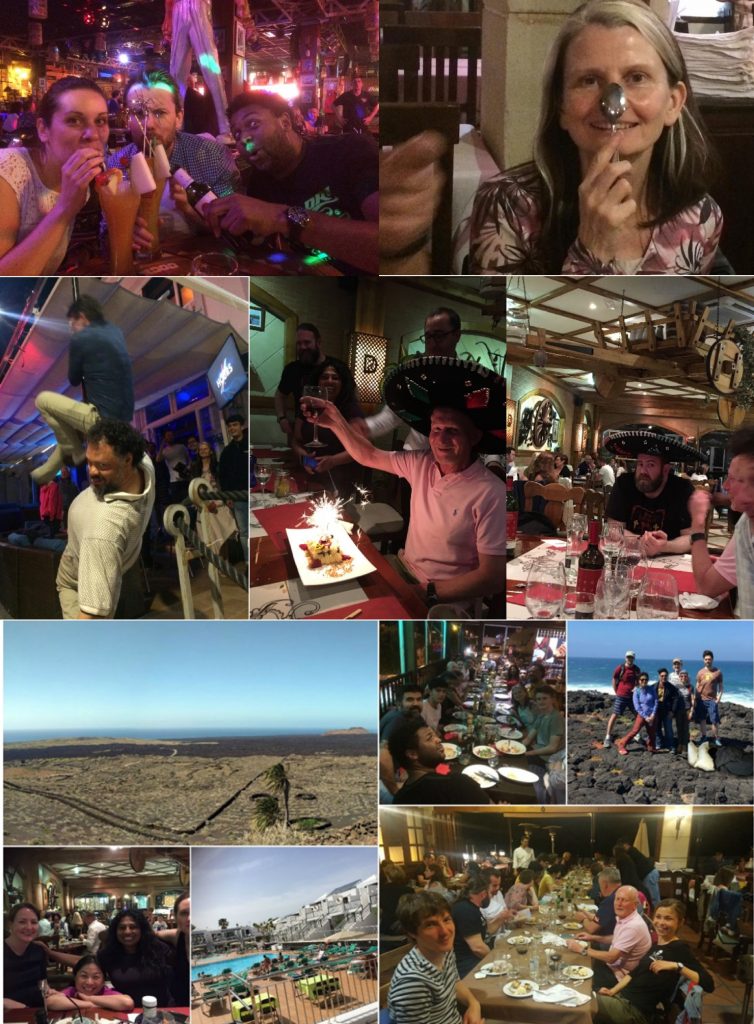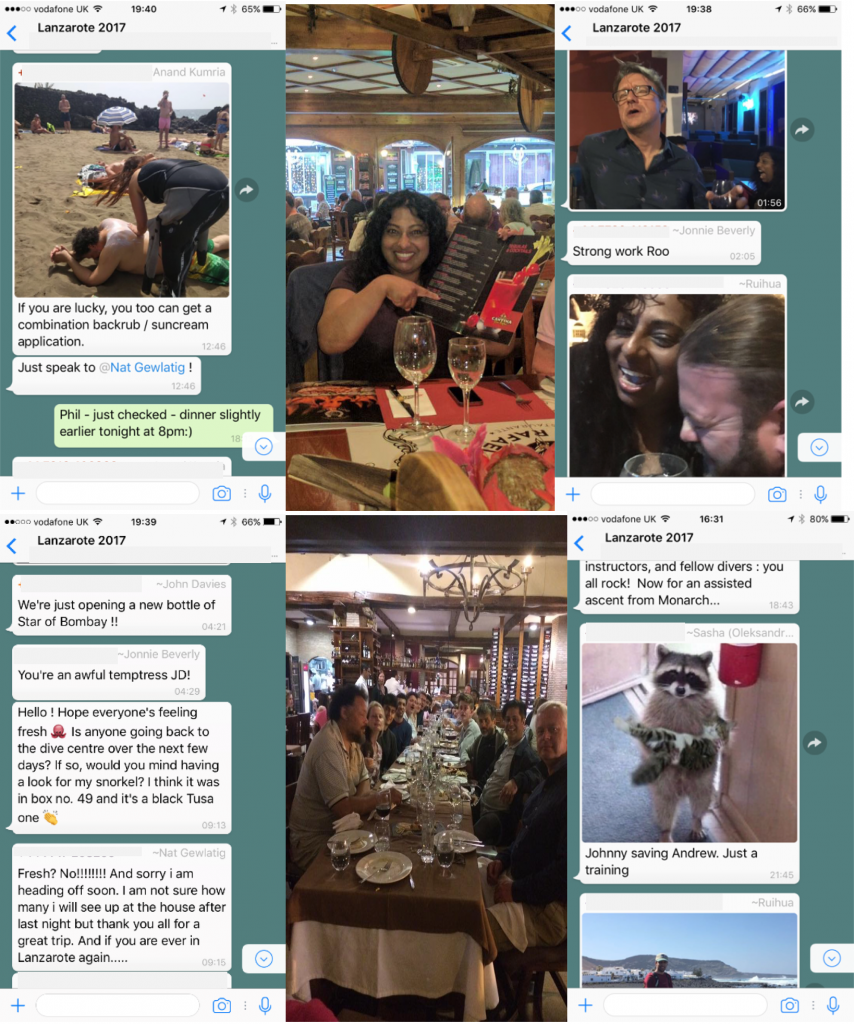 Well done entertainment marshal;)!
Just me and my buddy – our first independent dive – and the watery trampoline
By Matt Byrne 

No GoPro this time. Andrew C and I had come up with what we believed was the simplest, task loading-free (thank you Phil!) plan possible for our first independent dive after qualifying as Sports Divers.
We were wrong. And yet it was all going so well. We were relaxed, cruising along the sea bed, inching our way down to 20 metres on the 240-degree bearing we'd agreed to take. After 15 minutes, we doglegged, kicking off on 330 degrees to bring us parallel to the adjacent bay before turning again to head home on 50 degrees.
Well, that was the theory. What we hadn't banked on was the fact that the apparently benign sea floor decided it didn't want to play along. In our minds a right turn should have meant a gentle fin over a steady depth. Instead the sea bed fell away sharply, leaving me and Andrew (primarily me) bouncing up and down like we were on a watery trampoline.
We made it back alive, obviously. Lesson learned – hug the rocks (or look for some other idiot-proof guidance sign) on your first-ever dive without someone who knows the area.  And maybe forget about 20 metres. We will, next time.
Let sleeping sharks lie…
By Andrew Cooper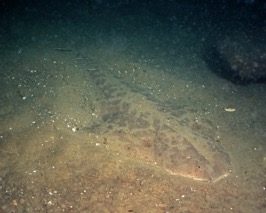 It was only over drinks that evening, when Matt and I were working through our reflections of the dive that we suddenly remembered  we had spotted the sandy silhouette of an angel shark at around 18 meters.
We had dropped down to see it better and I had in my mind the intention to gently fan off the sand to reveal its full form – just as our local instructor had deftly done the day before with a benign torpedo ray.  But as it got larger as we got closer the phrase "let sleeping dogs lie" came to mind – and the thought that this may also apply to sharks kicked in – so I let it be!
Amazing to see though –there's a myriad of interesting stuff out there below the sea which merits closer inspection – and I very much look forward to diving to see it in the months and years to come – hopefully building upon the friendships started on this trip.
And finally…
We would all like to say a massive thank you to all the instructors who spend their time helping the trainees, your knowledge, hard work and patience is much appreciated.  Also to Bev (Cal's mum) for organising great dinner venues for us to eat drink and be merry after a full days diving. Finally a special thanks to Preeda and JD for organising and running a fabulous trip that was enjoyed by all!
Bring on more diving!