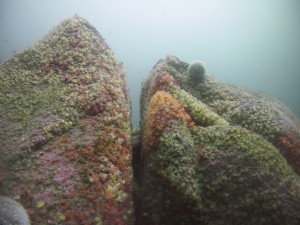 Day 5 saw the winds continue to drop to almost nothing so we decided to head for Bishop Rock. There was no sign of the ever-present Atlantic swell.  We could have pulled the boat up to the rock and stepped on!
The current was running a little so we tucked in on the west side of the rock for a very pleasant dive, starting at the bottom of the pinnacle and working our way up into the shallows where we found the remnants of the old lighthouse.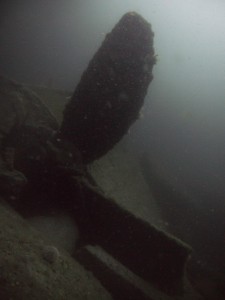 The second dive of the day was a repeat of the Hathor and Plympton to allow those that had missed it the first time to see it properly.  We followed the shot line to hit the Hathor wreck around the boilers and swam deeper towards the bow to find where it intersects with the Plympton.  After a look at the Plympton bow and stern and a very impressive propeller, we headed back towards the stern of the Hathor to finish our dive.  Again there was rather a lot of current but this is an excellent wreck site and definitely merits multiple visits.
The winds stayed calm for our last day of diving and we again headed out to Bishop Rock, but this time to dive the nearby Tearing Ledges – the site of the wreck of the HMS Eagle.  This was one of the famous Association fleet – four ships that all sunk on the same night in 1707, due to a miscalculation of longitude.  There are 61 cannon and a huge anchor all piled on top of one another in a gulley.  The site is a protected "historic wreck" – many thanks to English Heritage for granting us the license to dive it.  We had a good look at the cannon and then drifted over to finish our dive back at Bishop Rock in the middle of a school of mackerel, glittering in the sun.
Our final dive of the holiday was a repeat of Trenemene by popular demand.
It's been a fabulous week and we're all sad to go home!