The weather couldn't have been better this past weekend with 1mph (gusting 3!), flat calm seas, sunny days and the longest days of the year.  It started Friday night in the Cove watching the sunset.  Loads of people were shore diving – I nearly jumped in then, I couldn't wait to get started in the morning! Writes Pat Holliday.
This was a family friendly training trip with sports diver training, ocean diver UK boat diving crossovers, drysuits, dive leader training and assistant instructor experience diving.
Portland is a good destination for training trips for its multitude of choices: if the weather blows up, there are sheltered options around. There are dozens of wrecks in the harbour itself, assuming you can stomach the muddy bottom and often poor vis. But this is character building stuff, right? Poor vis is a given. Well, maybe… maybe not.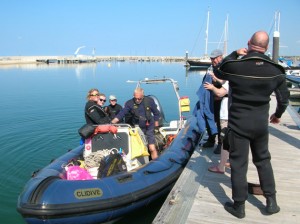 The shimmering silver of the sea, chalk white of the cliffs and pure blue of the sky felt akin to the gates of heaven for our disparate group of urbanites, and everyone was in ebullient mood to be diving once again. First dive was the Black Hawk, another Liberty Ship like the JEL that sits 20 minutes by RIB east of Portland harbour. The bow is in 18 metres, the stern some distance away in 45 or more. Diving with young Chris, I swam around the wreckage (badly broken), spotting lobster, edible crabs, large schools of Bib all around. My new gear performed flawlessly, with the BARE drysuit keeping me toasty, even in 18 degree water. Which to be fair is much warmer than a few months ago when we were diving in 10 degrees…
Second dive was a trip to training site du jour, the Dredger in Balaclava Bay. If I'm honest, it was pretty dreadful – vis perhaps a metre at best well off the wreck, and once we reached it this went down to inches where other new divers had already motored through. Still, we drifted out of the soup as best we could and Gosia had a go at sending up a DSMB.
What a difference a surface interval makes.
Our last dive of the day was to Durdle Door, that picture postcard rock archway along the Dorset coast near Lulworth Cove. It was amazing enough to be so close to the rock face, which arriving by boat allows, but to then dive it was incredible.
Here I now apologise in advance to the following: technical divers, cavers, rebreather divers, sidemounters, DPV or scooter users…. but Durdle Door proves all you need is a basic 12-litre rig on your back and happiness can be yours. This is an AWESOME dive site. Gullies, walls, nooks, crannies, swim-throughs, caverns, lobsters, spiders, loads of fish, barrel jellyfish (season dependant), kelp fronds – and all in 10 metres or less, so loads of light. This is what we got into diving for, in my opinion.
Sunday morning and our target was the Royal Adelaide – just 100 yards off Chesil beach, this was a schooner carrying gin that ran into trouble and today just a winch remains. Despite a flat calm sea and beautiful sunny day again we had trouble locating it on the echo sounder – the wreckage appears to have been flattened or even moved by the recent storms. That's our excuse anyway.
After descending gingerly with Luke, who was having trouble with his ears, we hit the bottom at about 12 metres and began our sweeps – no sign of the winch, only a few hull plates here and there, so we teased spider crabs for a bit. A first for me was spotting a Flying Gurnard, scurrying away across the sandy bottom into the gloom. Not great, but fun for a Sunday afternoon.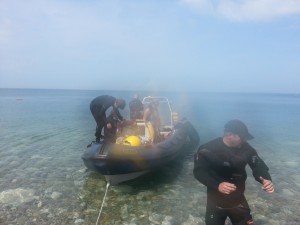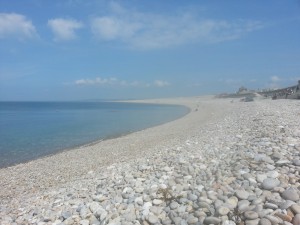 After beaching the RIB in Chesil Cove and a pub lunch, our last dive of the weekend was the James Fennel. This one lies just south of Chesil Cove off The Bill and we were warned by Joli to expect almost nothing – the wreck is now just scattered wreckage in between the rocks. Or so I thought. But after reaching bottom and exploring the large boulder field with Iona, we came across some huge sections of hull, at least 4 or 5 metres prominent from the seabed with room to swim through, around and under. Pipes, chains and other remnants are still discernible. With Iona carefully practising her buoyancy, we saw a colossal spider crab, several large lobsters and plenty of marine life. Late afternoon and with a long drive ahead, out came the DSMB for a reluctant ascent.
All that was left was the usual Sunday teatime rush to get the boat stowed, cylinders filled and the rest. Peter and Sandy came across to say goodbye and said: "Chris and Iona are asleep in the car already – they're both exhausted. But have enjoyed it." Mission accomplished.
See a report on of this weekend on British Diver here:  http://www.britishdiver.co.uk/2014/06/ocean-divers-go-to-portland/