So ever since we arrived, it's been windy. This hasn't stopped us doing some great diving, but has limited our options a bit. Despite this, we've enjoyed a tropical beach picnic every day – British diving really isn't like this!
But today the flags were limp and the harbour was limpid. Barely a breath of wind although the swell was still 'interesting' in places – 1.5-2m. We had a back-up plan of course, but thought we'd 'put our nose out' and check out Trenemene – a famous Scillies site, comprising a low ridge of rocks above water, while below water….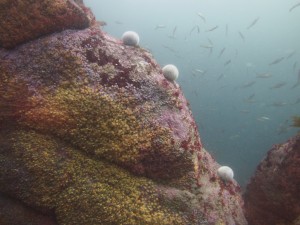 Slack seemed to be slow in coming, but the buoys were definitely pulling less. So Nick and I went in, thinking once we were on the wall it would be fine. I've never actually been dragged down to 15m by a current before, but a few seconds after leaving the surface I was clinging to a tiny outcrop on a sheer wall, wondering whether to be scared or to admire the masses of plumose anemones dropping to 40 or 50m. We sorted ourselves out and started descending again, only to find ourselves flying along the wall at a rate of knots. Eventually we shot off the end of the point, and assumed it was next stop America, but then found ourselves relatively easily able to swim back to the wall on the other side of the rocks. The rest of the dive was spent on the west side, admiring jewel anemones, ledges, sheer faces, crevasses and the darkness that lay below.
We had lunch on St Agnes, basking in the sunshine and politely ignoring the endless stream of middle-aged, Rohan-wearing hikers who yomped past.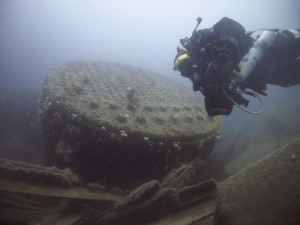 The second dive was the Plympton and Hathor – two wrecks for the price of one, with the Hathor having coincidentally sunk 11 years later on top of the Plympton. Apparently – according to the notes – it's "diveable at any state other than HW". Depends what you call 'diveable'. With the current running like a train, we crawled over a pinnacle to find the wreck, while some didn't manage it at all. But again the site was beautiful, the visibility excellent, the jewel anemones profuse. All in all a classic Scillies day.
I'm writing this sitting on the beach outside the house. It's 9:50pm, it's just about still light, the harbour is like glass, and the sky is tinged with coral. The BBQ's cooling, and beers are in hand. Tomorrow we're going to give the slack-free Bishops Rock a go, with Trenemene as a back-up. It doesn't get better than this!