By Ben Dowling
This year's trip to England's largest national park did not disappoint.  The weather gods were kind to us and we were greeted with some spectacular scenery.

We started our diving in Ullswater. Descending a slope to 20m in Glencoyne Bay, we got a feel for the salt-free water of the lakes, where it's slack tide all day. The darkness and the silt meant that this had to be a navigation dive, with some buddy pairs more accurate than others when surfacing. Undeterred by cold, darkness and silt, we then moved down the road to Stybarrow Crag for the second dive of the day.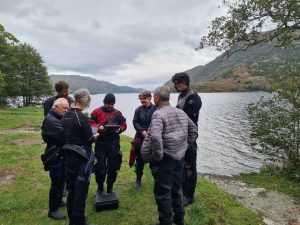 Day 2 required an earlier morning and a longer journey, but what a difference to the daily commute.  With some of us going via the notorious Hardknott Pass, neither route was easy driving, but both offered colourful vistas across the landscape.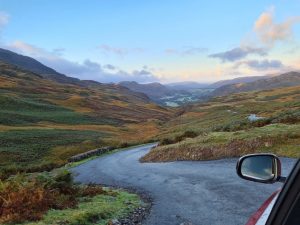 Our destination was Wastwater – at 80m, the deepest of the lakes. At the site called the Pinnacles we admired awesome rock formations, and various underwater sights created by man (or perhaps the gnomes that inhabit the famous garden). A sheer wall disappeared into waters that were dark but clear enough to be able to turn our torches off even at depth. But the thermocline at 15m saw the temperature drop from a balmy 12C to a finger-freezing 8C, quickly reducing the temptation to descend too far.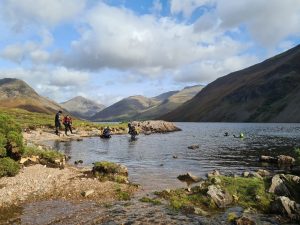 We rounded off our trip on Monday morning with a visit to Coniston Water. Parking up among the trees of Bailiffs wood, we headed across the road, to another beautiful dive site, where walls and plateaux just offshore drew us down to 25m+.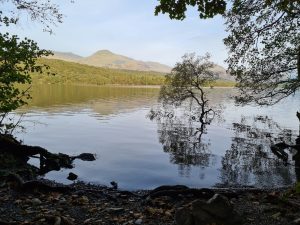 The lakes were chilly and dark, but it was always exciting to descend on the search for natural formations and manmade sites.  Equally, to arrive at the surface and bask in the beauty of the surroundings was a great way to finish each dive.  Thank you to all the CliDivers who made this a fantastic trip, to Richard who did the initial planning, and special thanks to Gio for picking up the baton from Richard and making it all possible.