By Perry Thomas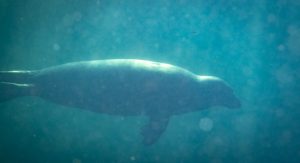 Let's skip to the main event: this trip was about seals.
For the first couple of dives on Saturday, the seals were skipping in and out of sight, teasing the divers with tantalising views and shadows in and out of the kelp and rocks, above, below and to the side. Just a nip to the fins if they could sneak up behind a diver and then make a quick getaway without being seen.
The older and more grizzled adults had their underwater perches and weren't moving, flashing threatening looks at anyone who might dare approach, and keeping a watch on those pesky youngsters.
Our new best friends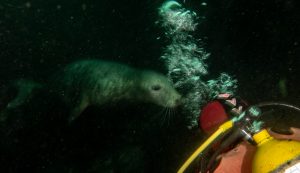 By Sunday, the curious pups and juveniles got braver and started playing with the divers. Of course you should never touch the wildlife, but that's hard to achieve when it's biting your fins, hood, arms, gloves and, on occasions, hoses. Buddy keep close!
Kissing the mask was a bit of a surprise. Those teeth looked sharp, and do leave marks in neoprene hoods, but it's just how they feel and explore new things. Having a seal pup using its flippers and body to push you down into the kelp can be disconcerting – they're not small – but is certainly exhilarating. A few of us found comfy patches to park and use our fins to play patsy with the seals, or perhaps chase the torch beam.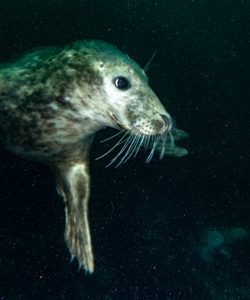 By Monday some of the braver juveniles decided they didn't want the play sessions to end, going for the DSMB or its cord, and biting the fins of divers on safety stops. Don't go! Come back and play some more!
We weren't the only divers, so the increasing level of interaction was probably more about the improving weather and conditions than growing friendships, but we can build our own narratives as it feels good to make such new friends.
… and some of our old ones
So what else do we need in a trip report? Well, the weekend saw 14 divers meet up in Seahouses under the expert organisational skills of Dive Manager Elaine Hendry, so needless to say it all went smoothly. It's a pity she couldn't have organised the traffic between London and Northumbria, a few of us taking over 10 hours for what should have been a 5–6 hour trip.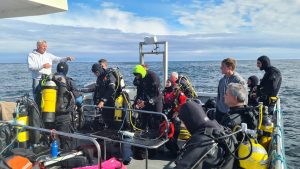 Many of the group hadn't dived for a fair while – 'the Covid years' – but with several having dived the Farnes before, there was a great buzz around this trip. As we've all suffered from lockdown to varying degrees, the social side was important for everyone too and the restaurants and hostelries of Seahouses didn't disappoint. Farnes is an excellent bitter, not just a group of islands.
I was very impressed to see Matt's MTV videos of his music career, and we all heard about his past entertainment at the club's parties. I'm not so sure about the time spent on the vintage space invaders machine at Xanadu, although overall, accommodation was fine and the staff very friendly.
Not just about seals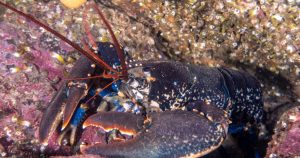 Everyone planned six dives, which worked out except for a couple of flooded dry-suits and a last-minute work commitment curtailing Vittorio's Monday. The dives were relatively shallow – a great way to get back under the water and practise those DSMB skills. It also meant we could concentrate on looking for seals and other sea-life, such as the numerous and fairly large lobsters, swimming crabs, squat lobsters, prawns, the odd octopus, and so forth. We even managed to spot a dolphin, although not while underwater.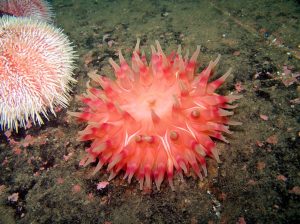 We dived from Serenity (not many got the Firefly references – not many sci-fi geeks on the trip) with an excellent skipper picking the dive sites using his local knowledge of tricky tides and surges. The lift at the back of his boat was much appreciated by everyone.
The Clidive chain gang
The skipper was taking out two groups each day, one in the morning and us in the afternoon, giving us time to fully enjoy a cooked breakfast. Clidive proved its organisational discipline with the 'human chain' approach to getting the cylinders and kit on and off the boat (check out the video below!) – an approach not practised by the other dive groups, but fully appreciated by the skipper and mate.
Land support was provided by Marysya, who could count as one or two depending on your point of view. All the best for your upcoming adventure!
And finally, a kiss goodby from a seal!
All the diving took place on the North Warnses (west and east sides), Blue Caps and the Hopper.
Thanks to Laurie, Oliver, Vittorio, Mark and Marysya for the photos and videos. There were too many to include in this report, so we've created a separate site for you to check out. Check out Mark Kelly's 'official trip video' , and here's a great photo by Marysya.