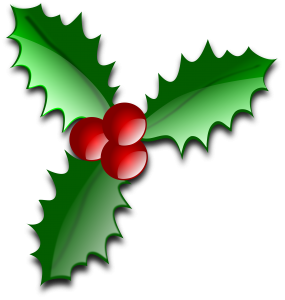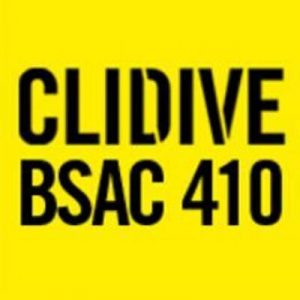 Welcome to the latest monthly Newsplash. We publish a short news blog each month, written for members, but open to anybody interested in the club. If you have any items that you would like mentioned or any suggestions for new content, please send them through to me: elaine@clidive.org.
In the meantime, I hope you have a great Christmas and New Year – don't forget the pool will be shut until 4 January.
AGM Highlights
Just in case you haven't read Harriet's minutes, here are the highlights of a well-attended Annual General Meeting, held at the end of November.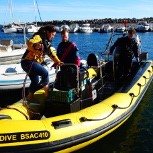 Income from subs, dive returns and training has gone up this year, and we are beginning to build a sensible surplus. This is critical if we are to maintain and, in due course, replace the boats, and keep the kit in good working condition.
We did a lot of diving last year (1,249 dives logged!) to some great sites, with several new ones – such as the Summer Isles, Madeira and Croatia – and many old favourites, including Plymouth, the Farnes, St Abbs and the South of France.
We need to keep doing plenty of RIB diving to keep the club adventurous, the boats viable and our dive management skills honed.
We also need to keep costs under review; for example, the cost of kit hire has stayed the same for years. That said, Clidive has always prided itself on making diving as accessible as possible. The new Committee will be reviewing costs.
Against the general grain, Clidive's membership remains at very healthy levels – we have 130 full members, around 86 of whom are actively diving.
Interestingly, individual members are doing fewer dives a year, and it would be good to know if there's anything we can do to enable more people to do more diving.
Training continues to be a real club strength. We have 32 (!) active instructors who have helped to run three Ocean Diver and two Sports Diver courses over the year. We will do the same number next year, as well as Dive Leader, Advanced Diver, Instructor mentoring and skills development courses such as boat-handling, VHF, first aid, O2 admin, bouyancy and trim, etc., etc.
Socialising is also a club strength, with 17 events run this year, ranging from trips to see Star Wars to BBQs and beyond. The lectures were a particular success, and next year's programme is already under development.
The New Committee
Elected
Chair: Neil Rickards
Diving Officer: Chris Wilson
Equipment Officer: Mark O'Loughlin
Treasurer: Ian Baker
Secretary: Harriet Cross
Appointed by the Committee
Diver Development Officer: Bart Wagrowski
Training Officer: Richard Kelly
Membership Secretary: Eleanor Partridge
Webmaster: Tomasz Witkowski
Social Secretary: Preeda Harish Kumar
Bosun: Steve Walsh
Van Officer: Nick Harrison
Equipment Apprentices: Pippa Hembry & Rebecca Oliver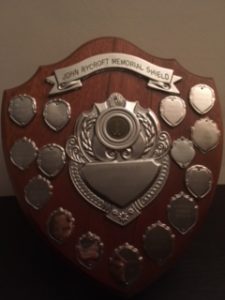 Awards
Diver of the Year (John Rycroft Memorial Shield): Elaine Hendry & Nick Harrison
Trainee of the Year: Marco Fiscato
Advanced Trainee of the Year: Gillian Bell
Instructor of the Year: John Sharkey
Simply having a wonderful Christmas time…
Actually, I'm pleased to say that Paul McCartney did NOT feature on the playlist at Clidive's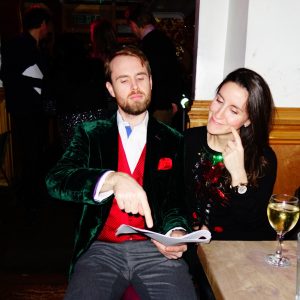 Xmas Party on 9 December. Well done Preeda (and her elves) for organising this year's do. It was generally voted 'best yet', with never a dull moment.
Here are the highlights (thanks to Simon de Lotz for the photos):
Publication of the 2018 Dive Programme: so far, so traditional, but hats off to new DO Chris for a slide show that had us all pouring over the programme and signing up to our top trips on the spot.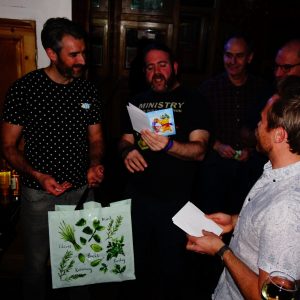 The raffle, which included a computer and a twinset among the glittering prizes.
The latest 'secret skill': a mystery member getting the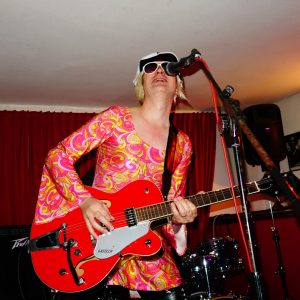 party going with some great singalong hits – his identity was eventually revealed, but shhhh! we're not telling!
The food: jerk chicken and rice – what's not to love!
The money raised: £900!!
The dancing: a picture is worth a thousand words.
Message from the new Diving Officer
As Christmas approaches it's natural to review the year. I'm sure everyone will agree when I say it's been a fantastic year of diving in Clidive – we've had dolphins in Scotland, Morays in Marseille, Trigger Fish in Madeira and wrecks galore!
I'd like to thank all the Dive Managers who've put in so much time to make these trips possible. I'd also like to thank Neil, the outgoing Diving Officer, for his tireless work coordinating everything; and David, the outgoing Bos'n, for his many unseen hours ensuring the boats are working and ready to go. These are thankless jobs, so you should buy them both a pint in the pub next time you see them.
It's also a time of year to look forward, think about the future and what the next year holds. I for one am looking forward to the year ahead, and already booking on dive trips. I encourage all who haven't done so yet to read the new dive programme (https://www.clidive.org/diving/dive-programme/) and accompanying brochure (https://www.clidive.org/wp-content/uploads/2017/12/dive_programme_2018_website-1.pdf) and start planning your new year's diving. There's something for everyone but I know for a fact that some trips are already starting to fill, so don't wait too long!
It just remains for me to wish everyone a merry Christmas and a happy New Year!
Don't forget to schedule in some training…
First Aid for Divers: 4/11/18 January, 7.00-9.30pm
A practical course that aims to give you the confidence to give first aid in an emergency using equipment to hand on a diving trip.
Run over three Thursday evenings.
Cost: £35 including the training pack for those who have not done it before. If you've done it before, a refresher will not cost anything.
Email training@clidive.org
Winter boat handling practice
Dates will be published soon for days when those who have done the  BSAC boat-handling course or the RYA level 2 powerboat can practise their skills on the Thames.
Cost: £10
To express interest, email: training@clidive.org
…and get your friends and family diving
Try Dives: 25 January & 1 February, 7.00-9.30pm (theory + pool)
Cost: £10
Email:  training@clidive.org
Ocean Diver Course: 8 February – 13 March, 7.00-9.30pm (theory + pool)
Sports Diver Course: 22 February – 5 April, 8.00-9.30pm (theory)
Email:  training@clidive.org
Happy 2018!