By Rebecca Oliver
Despite being a club member for nearly four years I have never been asked to write up a trip report. I was beginning to think that my fellow club members must have doubts as to my capabilities and perhaps they were right, because the week passed in a bit of a blur and I'm struggling to remember where we dived and what we saw. I even tried to offload the writing of the report onto Peter, but he was having none of it. The trade-off was to be that I took over the role of Money Marshall. Enough said. In my defence I really wasn't very well at all, ending each dive in a coughing frenzy, and I apologise to my fellow divers for having to put up with that hacking cough the entire week.
Breaking bad
The trip started rather ominously with our original Dive Manager breaking both his legs three weeks before the start. Thanks must go to Chris for stepping up (gingerly) to take his place.
Leaving London late Friday afternoon in the Orange van, with the boat in tow, the journey started well enough with an overnight stay for me and Chris at the luxury resort known as Watford Gap Service Station (M1 Northbound), a candlelit dinner at the motorway services, followed by a 05:00 start the following morning. Okay, I lied about the candles. This is exactly how I like to spend my valuable annual leave days I remember thinking to myself as I sniffed the tarmac in the truckers' parking area.
We were progressing well until the Lake District, when we discovered – on pulling out of the motorway service station – that Orange had a flat back tyre. A quick call to the AA and we figured we would soon be on our way. Note to towers here: ALWAYS CHECK THE TYRE PRESSURES (located on the driver's door of Orange) before embarking on any trip. It's a mantra that has been drummed into me by my dad and good advice which I failed to follow on this occasion. Our initial hour wait turned into two hours. As we were directly blocking the air filling station we idled away the time by offering to pump the tyres of passing motorists. Somewhat fortuitously, the motorway services were the best I have ever been in, serving artisan bread and local produce, and I would recommend a visit if you are ever in the area http://www.tebayservices.com/
Finally the AA engineer arrived. Now usually my experience with breakdown engineers (and I've had a few) has been of some chirpy chappy arriving on the scene to help you on your way. Not on this occasion. Mr Grumpy AA Engineer of the Year arrived, his mood not helped when we opened up the back of Orange whilst he was trying to jack the van up, to reveal our cargo of 31 diving cylinders. The wheel replaced and the rest of our tyres now set to the correct pressure, we were on our way once again with the realisation that we would definitely not be making the afternoon ferry and with some concern about whether we would be able to launch at all that evening. A detour to the local Ford dealership in Carlisle to pick up a spare tyre delayed us by a further hour and
put paid to us making any ferry that day.
Roaming in the gloaming
Once in Scotland the drive became spectacular. Around the shores of Loch Lomond up towards Oban. O ye'll tak' the high road, and I'll tak' the low road, And I'll be in Scotland a'fore ye, But me and my true love will never meet again, On the bonnie, bonnie banks o' Loch Lomond. Except that we weren't going to be in Scotland a'fore anyone. By the time we reached Dunstaffnage Marina to launch, dusk was beginning to fall. The slip was shallow so it took a few goes to get Yellow off the trailer with some quite unorthodox manoeuvring of Orange "drive backwards down the slip as fast as you can and then slam the bloody breaks on!" Nick yelled to me in true Michael Caine style [Ed: This is definitely NOT the recommended method, but desperate times…]
With Yellow launched, three of us, with Nick at the helm and Elaine clutching a scrap of paper with 'directions' ("turn left at the third green buoy"), set off toward the Sound of Mull, watching for waypoints looming out of the impending darkness to guide our way. It was an unforgettable experience: the landscape was brooding and mysterious, we passed just two other boats, and it took us well over an hour to reach the Tobermory Harbour.
The scrap of paper soon became a bit of pulp, and by the time we arrived night had well and truly fallen. We were guided in by Sharkey standing on the pontoon waving his mobile phone at us. It was lovely to receive such a warm welcome from Sharkey, Pippa and Peter after what was quite an arduous journey. A much appreciated Indian take away, and then to bed leaving Chris and Lauren stranded in a dubious B&B on the mainland with the van, making plans for a hastily rearranged ferry crossing the following morning.
Twas brillig…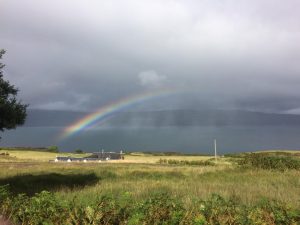 Despite our various travel issues, including one club member (let's call him Nick) managing to get on the wrong train, we were all ready to dive as scheduled on the Sunday. I'm not going to go into details of each day's diving here, suffice to say that the scenery is stunning and if you haven't been diving in this part of the country before then I suggest that you sign up to the next trip pronto.
Not being of a poetic disposition I don't have the words to describe the beauty of the place and when I suggested, whilst out on the RIB looking across the spectacular Sound of Mull towards the mountains, that it really was time for some poetry, thinking perhaps some Robert Burns or even one of the Lakeland poets would be appropriate, the best we could muster was a rendition of Jabberwocky by Peter. It was however an excellent rendition and, according to Pippa, was how he had won her over all those years ago.
Due to adverse weather, most of the dives took place within the Sound although one day we did manage to get out to the iconic Bo Fascadale – a stunning wall dive with lots of life, I've been told. This was the day that I retreated to my bed with my irritating cough and a copy of Robert Macfarlane's Landmarks – a very good read as recommended to me by both Elaine and Pippa. The week's diving included both wrecks (the Rondo, the Hispania, the Shuna) and walls (some descending down to 90m), and we saw conger, lobsters, crabs, huge sea squirts, red cushion sea stars, a Highland Dancer, an octopus (that swam directly into a rock and then looked a bit stunned), huge amounts of anemones, peacock worms, monkfish, and a large colony of seals, including many pups. The trip also included some fishing, with Colin catching mackerel from the back of Yellow whilst the rest of us were trying to dive. What we didn't see was many other people, including other divers. It was heavenly.  At times it felt as if we had the whole of the Sound just to ourselves.
Clidive's got talent
As with all diving trips, we all learnt a bit more about each other. Pippa and her talent for cooking mountains of food; Sharkey, who wins top score for best buddy evidenced by all those compressor runs and his house cleaning abilities; Colin who complained bitterly about the broken cooker but was trying to use aluminium pans on an induction hob. A buddy X (who will not be named) thinking it was a good idea to give the RIB binoculars a good clean by dipping them into the sea to rid them of their salty deposits. Oh, how we laughed. And we have a new name for Yellow, which should now be known as 'the flying yellow banana' courtesy of a child in the marina.
Apologies if you were expecting a detailed account of the different dives but I hope that I have summed up the spirit of the trip. Thanks must go to my fellow divers Pippa & Peter, Elaine & Nick, Chris, Sharkey, Ben and the non-divers Colin, Lauren, Cori and baby Rowan for making the trip so memorable.