The trip report on the Portland training weekend is a very short one: "It didn't happen". The weekend forecast was for gale force winds that would have confined us to shore. Enter Chris' last minute dive planning and you end up with a great training trip to Stoney Cove in Leicestershire, organised only two days before the diving began.
I had not dived at Stoney Cove before (or even heard of it) but I was excited to be visiting a new dive site and possibly to see Nessie in the flesh (see Stoney Cove's dive site map…). For those not familiar with the site, Stoney Cove is a large flooded quarry (originally, it was a 19th century granite mine) with a plethora of attractions including Stanegrathe, claimed to be the largest inland wreck in the UK, an aircraft cockpit, a submarine, a bus and an archway beneath the pub.
Despite the last minute change in the dive trip location, a strong group of 13 of us managed to make our way up to Nuneaton on Friday evening, where in true Clidive fashion we met for a pint at the pub.
After an early start, a big breakfast and a short drive on Saturday morning, we arrived at Stoney Cove only to find that our large parking spot was given away. Moving to a smaller parking spot meant that a) we had to be more organised with our kit (good practice for diving from a RIB) and b) I found out that with my new drysuit on I could no longer squeeze between our van and the car parked next to us – at least I think it was the drysuit.
I was part of the first group to jump in the water. I spent just two minutes putting my drysuit on and around two lifetimes trying to push my head through the neoprene neck seal – I felt like I was being born again (in a very literal not spiritual way). I felt flustered, hot, and questioned why I wanted to start diving in cold water. My fellow Clidivers diving in the next wave in wetsuits must have been wondering the same, while patiently waiting and discussing their dive plans with Ian and Richard.
With all our kit ready, Chris and I took the short walk down the steps to the diving platform, I executed a decent giant stride, and immediately felt like a weight was lifted off my shoulders – more accurately, though, it was a fin from my foot, which Chris managed to strap back on.
The first dive took us down to 20m along the western wall, around the Viscount aircraft cockpit and on a gradual ascent during which we were greeted by a large (70 – 80cm) pike.
During my surface interval, I got to practise being an Assistant Dive Manager and helped Ocean Diver (OD) trainees enter and exit the water between practising their essential open water skills. At lunch, the hungry Clidivers enjoyed the sunshine during what turned out to be an unexpectedly warm day.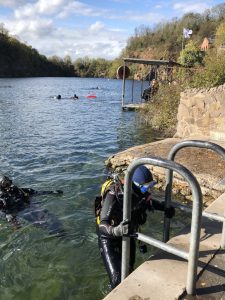 Eager to continue training, we all started assembling our kit. During my second dive, under Chris' instruction I managed to tick off two Sports Diver (SD) open water skills, while also spotting another large pike, only this time it was sadly lying flat on the quarry floor. The increase in the land temperature unfortunately did not translate into better visibility and warmer water, and, as we dropped through a 10°C thermocline, I fell in love with my drysuit.
The evening involved mountains of food, countless drinks, an unusually long and hilarious conversation about the pub's kids' menu graphics, talking about diving, boating, yachting and anything else sea related. It definitely did not involve a birthday celebration for Richard who may or may not have been turning 18 years old.
The next morning, we woke up to textbook British weather. The forecast said to expect rain all day. It turned out to be accurate as it only stopped raining after we had finished diving and packed up all our kit. Two weeks later, my kit is still drying in my living room. Despite the cold and wet weather, however, everyone was happy to jump back in the water and to continue training.
Together with Arthur and Chris, I explored the quarry's underwater attractions, during two dives to the eastern side, to 18m and 15m. By the end of the day, Arthur qualified as a SD and I learned how to deploy a DSMB (delayed surface marker buoy) and use a compass.
The other two training groups comprised Tristan and Sangeeta led by Ian, and JB, Jan and Dana led by Richard. A summary of the lessons they learned over the weekend follows:
(i) Tristan learnt that all divers secretly want their parents to carry their kit around but will not admit it.
(ii) Sangeeta learnt that the size of your hood can make or break your dive.
(iii) Richard's group learned the importance of your instructor wearing a pink and blue drysuit as well as yellow fins and a red wing in low visibility conditions; and
(iv) Jan appreciated the beauty (and necessity) of a working regulator.
Overall, it was a well-organised and fun training weekend for the group. For me, learning how to use a drysuit has opened up the world of UK and cold water diving, which would not have been available to me in a wetsuit. More importantly, it was a successful training weekend for everyone, helping five OD trainees and one SD trainee to qualify, as well as inspiring three of the newly qualified ODs to join the current SD course.