By Adam Howard
For the first bank holiday in May, eight of us took the club van and our yellow boat to Plymouth. Plymouth has plenty of shipwrecks and marine life, and is definitely considered a club favourite. The weather was perfect, the visibility was good, and everything went (roughly) to plan.
As it was a bank holiday, Nick and I planned to pick up the boat from its temporary home in West London and get on our way early. Unfortunately when we arrived, the trailer had no wheels, and we had to wait for some repairs to be finished. While we twiddled our thumbs, the rest of the group started to converge on Plymouth.
Finally arrived, we launched the boat and met at the pub for a fine dinner [editor: they were too late and had to dine on crisps!] before returning to the rather utilitarian accommodation at the Mountbatten Centre.
Saturday: Eddystone Lighthouse and the JEL
First things first: one of us thoughtfully planned to bring two BCDs and then realised they'd forgotten both. Thankfully Andrew travels with various family BCDs just in case. Somebody else brought a cylinder which was out of test,  needing a formal safety inspection before it would be safe to use. These things happen, but with a dive centre on site none of it affected our plans.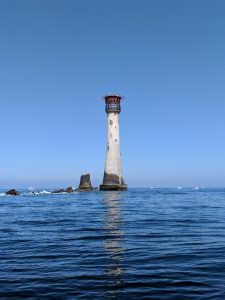 The Eddystone is glorious lighthouse marking some rocks that sailors used to bump into. It's been there in some form since 1698. We were interested in the reef which housed a variety of fish, corals, sponges and spider crabs. It was my first UK dive, and I was impressed at how much stuff there is in our waters, and, in the case of the crabs, how big they are.
Mishap #3: Brian discovered his drysuit had a leak, due to the new zip being inserted the wrong way round. Luckily he was able to hire one from the dive centre. Presumably the incompetent drysuit people refunded the cost.
Our second dive was the on the James Egan Layne (affectionately known as the JEL). This was a WWII 'Liberty' ship, built in just 24 hours solely by women [ed: this is how we won the war!]. It was hit by a U-boat near the Eddystone reef and sunk while they tried to tow it back to Plymouth. The cargo you can still see on a dive includes pickaxe heads and locomotive parts. It's an upright wreck with some fun swim-throughs that are safe for everyone as they are open overhead.
Saturday was a very strong start to the trip!
Sunday:  Hand Deeps and Scylla
Hand Deeps is a group of pinnacles that look a bit like a hand reaching up from the depths. The peak of the highest pinnacle is at about 10m and they go down to 50m – we dived to 30m (my max depth as a sports diver). There are coves and gullies and plenty of marine life on dramatic sheer walls.
At the start of the dive I realised I had forgotten to put the battery in my torch after charging it overnight. Idiot. The visibility was good though, and we were just using torches to look under things and get each other's attention. I had optimistically removed a kilo from my weight belt and by the end of the dive ended up slightly underweighted. I communicated this to my buddy and just stuck my arm under his for our safety stop and ascent.
The Scylla is an intact modern frigate decommissioned in 2003 and sunk a year later as an artificial reef for divers. At 113 metres long it's pretty big. Its silhouette underwater is amazing, and swimming along the companion ways I really felt like this is what I had come for. I found a big lobster under some scrap metal and it recoiled as I poked my head in – I think we were both as scared as each other! We worked our way back along the other side, peering into the rooms, looking for wildlife.
Monday: HMS Elk and Hilsea Point
On Monday I forgot my dive computer. I borrowed someone else's spare which was the same brand, so I had no problem using it. It was still all going to plan!
The Elk lies near the deep water channel so large warships and ferries can pass straight overhead if you're not careful. We informed the port control — "Longroom, Longroom, Longroom" — of our intentions and they told us to wait until a container ship had come into port. That we did, and a giant ship appeared on the horizon.
The communication on the VHF radio was new to me and I loved hearing the goings-on in the area from the different boats. We heard a dive boat communicate that one of their rebreather divers had signs of DCI. It sounded worrying, but when we got back we found the diver's buddy drinking a pint and he told us that the whole dive went to plan; hopefully it wouldn't be serious.
There was also a mayday call that day; a small fishing boat capsized near the harbour wall.  "Jonny Bravo" said it had divers on board and could send some down to check nobody was in trouble. Longroom advised them to definitely not do that. We later learned that the skipper – who was on his own – had had a heart attack. There had been a dramatic rescue off the beach, involving the helicopter, but unfortunately they were unable to save him.
The Elk was a WWI minesweeper, adapted from a fishing trawler built in 1903. It eventually went back to fishing, then in WWII hit a mine itself. It's a small wreck [Ed: rapidly getting smaller – now almost flattened by storms] and you can explore it well, diving through things, under things, and around things. The vis was exceptionally good and bright. There was a little current by the end of the dive, probably because we started late.
The last dive of the trip was Hilsea Point. We initially had trouble finding it as we followed instructions like "look for a rock  that looks like a coffin" (actually it really does – you just have to remember it's half-way up the cliff!). When we found it we took photos for future trips.
The site itself is amazing; narrow canyons lined with coral, fish, and prawns all more colourful than the other sites on the trip. We saw a dogfish and ended the dive by ascending through a beautiful forest of kelp with sun rays shining through it.
It was an amazing end to an amazing weekend, and I couldn't commend Brian higher for both his planning and execution of the six dives. It felt like a Plymouth highlight reel.