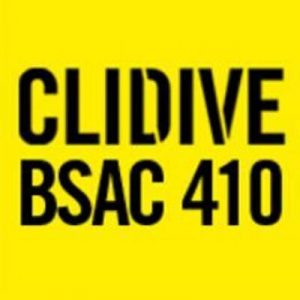 Welcome to the latest edition of Newsplash – our (not quite) monthly update on what's happening in Clidive.
Among the items in this edition: still time to come diving over the May Bank Holidays; lots of training, as ever; important information about the kit cupboard and the van; everything you need to know about immersion pulmonary oedema; and a good reason to be young again.
Trip news
The season has started and trips are filling up fast. Dust off your kit, get in the pool for a practice and sign up now.
There is still time to grab a place on the May Bank Holiday trips, so don't worry if you've left it late.  Both trips are open to all levels of qualification. If you can't commit to the whole weekend, it is usually possible to join part of a long weekend trip – check with the Dive Manager.
[NB Dates below are diving days: you will need to aim to arrive the night before.]
First May Bank Holiday – Portland
Saturday 4 to Monday 6 May
Contact Ian Baker: ian@icbaker.co.uk
Second May Bank Holiday – Plymouth
Saturday 25 to Monday 27 May
Contact Eleanor Partridge: eleanor@clidive.org
Winter Warmer Trip Report
To get you in the mood, we have a blog from Matt Byrne, reporting on his first-ever UK sea dive (and first ever in a drysuit).
Apart from making you want to book a train ticket south and jump straight in the water, it's also a timely reminder of the kind of issues people experience on the first dive of the season. Read it here.
Practise, practise, practise
Clidive has been making a reality of the BSAC mantra this winter/spring, with a series of special training evenings organised by Diver Development Officer Gillian Bill, and run by members for members.
So far, Nick Barter has run workshops in Planning for Deco and Underwater Photography, and Chris Wilson and Ben Jaffey ran a special evening for aspiring Dive Managers covering Tides & Planning. This Thursday Ben will be running the regular Mayday evening, when we get a chance to brush up on emergency and rescue skills.
Also planned are:
9 August – Knots evening: Learn and practise all the knots you need for diving and boat handling
10 October – Kit care: How to look after your kit and solve a lot of problems and malfunctions – save you a dive and save you money!!
All are free of charge. Email gillian@clidive.org to register.
Try Dives: 25 April & 2 May
The next Clidive Trydives will be held on consecutive Thursdays after Easter.
If you have friends, family or work colleagues who fancy discovering the wonders of…the deep end at Ironmonger Row Baths, get them to register with learntodive@clidive.org. More details on the website.
Also coming up:
Ocean Diver Course: 9 May to 20 June (7pm in the classrom/8pm in the pool)
Sports Diver Course: 9 May to 27 June (8pm in the classroom + two pool sessions)
Contact Training@Clidive.org to register.
Congratulations Corner
Big congrats to all of the following for gaining – or taking the first step towards – new qualifications:
Theory Instructors: Giovanni Corriga and Eleanor Partridge
Assistant Dive Instructors: Kath Biggs and Samantha Hastie
Instructor Trainers: Gillian Bell and Phil Page
Boathanding Instructor: Gillian Bell
Diver Cox: Ian Baker
Boathandlers: Soni Drew, Emma Stacey, Amy Maher, Patrick Sciberras, Jon Hubb, Mark Bossley, Nick Allbone, Simon Ellis
Advanced Lifesavers: Chris Wilson and Bart Wagrowski
Closed Circuit Rebreather: Gillian Bell, Nick Barter, Phil Page
Kit cupboard
Equipment officer Rebecca Oliver has introduced a new way of tagging the cylinders in the kit cupboard.
All cylinders in the cupboard must be tagged, so it's important that everyone leaving the pool knows what's left in their cylinder. There are tags to represent the different amounts of gas, and there's a notice on the wall in the cupboard explaining the colour coding.
If there are any issues with a cylinder please tag it red and write on the tag (with a sharpie) describing the problem as best you can.
Don't worry, you don't have to remember any of this as it's all on the kit cupboard notice.
ULEZ & Clidive
Those of you who don't drive might not be aware of the new 'Ultra Low Emission Zone' now operating in central London. It covers the same area as the Congestion Charge  – which includes Ironmonger Row pool – but is in force 24/7.
Unfortunately, our trusty orange van is subject to the charge. We have an automatic charging account, so if you are driving the van in to the pool, through London for a dive trip or for any other purpose, you don't need to worry about paying the charge.
It would be helpful, though, if you could let Clidive Treasurer Ian Baker know so that he can keep track of payments, especially those that need to be charged to a trip. The account also covers the Congestion Charge. Contact: Treasurer@clidive.org
Upgrading the van
Of course the ideal would be to have a van that's NOT going to add to the UK's air pollution problems. The Committee is planning to upgrade the van, subject to the funds being available. The more you dive with the club, the more quickly that will happen!
If you have any questions – or happen to know of a van for sale! – contact Nick Harrison on nick.harrison@surveying-services.net
Clidive lectures (and fund-raising) go from strength to strength
If you didn't manage to get to one of the Clidive lectures this year, you missed a treat.
The Monday night events covered ghost fishing, underwater photography, underwater archaeology, some fascinating wreck stories and the work of the Shark Trust, which Clidive helped get off the ground (seabed?) over 20 years ago with a £1,000 donation.
As ever, our former Social Secretary Preeda did an amazing job luring great speakers to Shoreditch and filling the room with Clidive members and friends.
The lectures also raised £380 for the Shark Trust, which is this year's Clidive charity. With the Christmas party, this brings the total raised so far to an astonishing £945!
Medical update: Immersion Pulmonary Oedema (IPO)
You may have read about IPO in the dive magazine but struggle to remember what it was all about, and definitely struggle with the name. Originally thought to be a relatively rare condition, a couple of years ago it was identified as probably the most common cause of death during diving and, as it happens, triathlons – two thirds of triathlete fatalities occur during the swim phase of the event.
While more evidence is being gathered, BSAC has recently issued instructors with some guidance on the topic, and we will start to include it in our teaching about diving risks.
What is IPO?
Pulmonary oedema is when fluid passes out of the alveolar (lung) capillaries into the alveolar sacs. Immersion pulmonary oedema is, as the name suggests, when the cause is immersion in water.
When we are immersed in water, the pressure of the liquid causes compression of our leg veins; blood that normally pools in the legs is pushed centrally into the chest. This increased central blood volume increases the pressure in the capillaries surrounding the alveoli, and may cause fluid to leak into the lungs and cause difficulty breathing. If not corrected it can cause death.
We're all at risk
High blood pressure, undiagnosed heart disease and the normal effects of ageing are exacerbating factors, but it can also affect the super-fit.  Cold water and exertion increase the likelihood of an IPO occurring – for example, the kind of exertion that might be involved in fighting a current.
Contrary to the advice we've all been given over the years, we are now being told that we should avoid excessive hydration before a dive.
How do we recognise IPO?
Breathing difficulties when not exercising particularly strenuously, e.g. rapid, uneven or heavy breathing, or coughing uncontrollably
Confusion, swimming in the wrong or random directions [admittedly a lot of us do that!]
Inability to carry out normal functions, while appearing to have to concentrate on breathing
Belief that a regulator is not working properly; indication of 'out of gas' when a regulator is working correctly and we still have gas; refusing or rejecting an alternate source when 'out of gas'
Difficulty breathing when on the surface
What should we do?
If you experience breathing difficulties underwater you should terminate the dive, ascend safely and exit the water. If you recognise any of the above symptoms in a buddy then assist them from the water as quickly as it is safe to do so.
Once out of the water:
Sit the casualty upright if conscious
Give them oxygen
Keep them warm
DON'T give them fluids
Seek medical advice immediately.
And finally…
Oh to be 14 again!
I never thought I'd say that, but an Isle of Wight school is to launch a maritime-based curriculum that has got me wishing I was back in my teens.
Among the subjects to be offered are: boat building, navigation electronics, celestial navigation, admiralty chart conventions, shipping forecasts and practical boat-handling skills. Pupils will also attend the annual Cowes Week regatta.
The aim is to give the kids skills that are needed for industries that are crying out for new people. We might want to recruit a few as Clidive members too…