by Gregory Bonds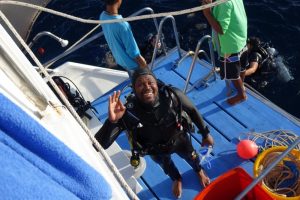 In September 2018 I set off with my friend Flavia to go travelling in Asia. You can find our full travel blog here. It wasn't a dive trip as such, but during our travels I did over 30 dives, and thought Clidive members might be interested in a short report and a few pictures.
I hope its useful information – if you are thinking of taking a trip out to those parts, please don't hesitate to speak to me. 
Phillipines Oct 2018
Island: Panglao (near Bohol)
Dive sites: Arco, Balicasag: black forest, the Cathedral
Dive Centre:  Mr Diver
Panglao dives sites are wonderful – it's like being in a giant aquarium. Visibility is always good (20m+) and water temp was 29C.
We saw a great variety of corals and wildlife. Highlights for me included banded sea krait snake, shoal of jackfish, turtles, trevally and a wide range of colourful sponges, anemones, butterfly, clown and angel fish.
We were usually diving with 11 litre aluminium tanks. There were a few Europeans and lots more Asians (Chinese, Taiwanese, Koreans). Usually groups were up to eight divers with three or so dive masters.
Max depth dived: 26m
Island: El Nido
Dive sites: Helicopter Island (small reef), North Rock (large lagoon), Twin Rocks
Dive Centre: Deep Blue Dive Seafari.
A different island! Lots of similarities in diving experience to Panglao in terms of water temperature, visibility etc. The main difference was the variety of fauna and flora: lots of cuttlefish, porcupine fish, flounders, nemo, helmet gurnards, morays and others. Another great place to dive.
Max depth dived: 20m
Hong Kong
Hong Kong -South China diving club BSAC
Although I didn't dive with them, there is a thriving BSAC dive centre in Hong Kong mainly made up of British expats, to which Clidive members Giovanni and Mark Bell still belong.
Thailand 7-11 January 2019
Manta Queen 1
Liveaboard around the  Kho Lak  region of  Similian Islands
Dive Centre: Khao Lak Scuba Adventures (Eat, Sleep, Dive, Repeat)
Report from Maxi, Assistant Dive Master
DAY 1
Big Smiles are on the faces of 17 divers that joined the Manta Queen 1 trip. Arriving at the still sleepy Similan Islands we are just in time to witness a beautiful sunrise on a calm ocean.
The dives on day one take us down to the peaceful sites of Tsunami Memorial, Deep Six and 3 Trees. A field of garden eels, a turtle, shy mantis shrimps and gorgeous blue dragon nudibranches welcome us.
On island number 8 we get the chance to watch a stunning sunset on the beach. Conditions could not be better for a nice nightdive on Whaleback Rock right in front of the beach where we are able to watch a giant moray eel getting ready for dinner and a lobster waking up.
DAY 2
Day two welcomes us with another unique sunrise and brings us straight to Island Number Nine. We have the opportunity to explore the marine life waking up during our first dive at north point. A defensive black triggerfish follows us to protect its eggs. We found further proof that the unique Maldives sponge snail is not just found on the Maldives. We also got lucky in spotting some rare reef sharks around. We then leave the Similan Islands.
For the second and third dives we explore Westridge and Northridge on the island of Koh Bon. The current gently takes us around and gives us a great impression of the beautiful area. The impressive phenomenon of an underwater waterfall comes along with a banded sea snake, octopuses and sexy shrimps waiting for us to dance with them. After that we move on to Koh Tachai to dive nothing less than The Dome on our fourth dive of the day.
DAY 3
Waking up on day three, the Surin National Park gives us a refreshing morning dive on Torinla Rock. Once down, the current takes us around again and offers us a nice morning workout. We discover a jenkins whipray buried in the sandy bottom right next to hard corals with hiding moray eels, camouflaged nudibranches and waiting mantis shrimps.
Then Richlieu Rock! Listed as one of the top diving spots worldwide it does not disappoint us and proudly presents its rich marine life to us. Three dives at this famous spot, and the marine life gives us a show you don't get anywhere else. Including stars like octopus, pipefish and schools of barracudas performing their amazing choreography while hunting.
DAY 4
Not better than Richlieu Rock, but different: three decent wrecks! First Pratong is on the list: a former US Navy ship and one of the few places to find rare creatures like the seamoth. It is followed by the Thai tin mining platform which is better known as Boonsung Wreck nowadays. It gives creatures such as ghost pipefish and nudibranches the perfect home, and also attracts schools of pufferfish and trevallies.
A glorious last dive of our trip is on the artificial reef of T13 also known as the 'underwater museum'. The trucks and concrete blocks are not only a perfect playground and favourite photo opportunity for divers, we also witness a medusa playing around and a large anemone housing a clownfish family and tiny shrimps.
South Thailand  22-24 January 2019
Diving around the Kho Lanta region in the Andaman Sea
Dive sites:  Kho Haa group of islands
Dive Centre: Khao Lanta Divers    Max depth dived 25m
The Khao Haa group of islands offers great diving  conditions: clear visibility and warm waters. There is also a rich and unique diversity of sea creatures including:  black tip sharks, morays, batfish, garden eels, snappers, groupers and many many others – a great pleasure to dive
Diving around the Kho Lipe  region of  Andaman Sea
Dive sites:  Stone Henge
Dive Centre: Forra Dive resort   Max depth dived 25m
Quite similar in many ways to the Kho Haa  dive site. The main difference I found was that the currents were  strong and sometimes difficult to negotiate.