By Harriet Cross & Emma Rigby
Preeda had the fantastic idea of arranging a trip to Madeira, a surprisingly green Portuguese island 400km north of the Canary Islands in the Atlantic Ocean. It is positioned in the Gulf Stream so a very comfortable 22C meant we had a break from our UK dry suits and could give the wet suits a whirl.
At the beginning of the trip Hurricane Ophelia caused havoc in the Azores butthen changed course to the UK, so it didn't hit Madeira.  We were able to continue with our plan for the week – two dives a day over five days, good food, one or two drinks and a few days' sightseeing before heading home.
Six of our group of 16 were affected by the collapse of Monarch airlines. After frantic messages, the rebooking of flights and car hire, and another version of our trip document, the trip was re-organised in record speed.
As we flew in, the view was stunning.  A small green island with steep cliffs and hills reaching into the clouds. Although almost entirely comprsing steep slopes, houses and villas with white walls and terracotta roofs were scattered in small towns and villages. Hand-built terraces accommodated banana trees and other exotic plants. Towards the higher parts there was thick green woodland which we explored later in the week.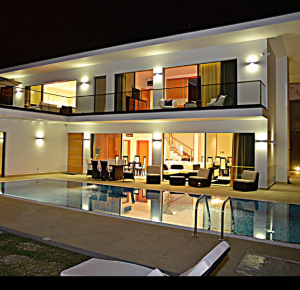 Preeda had booked  two villas, and it turned out that the photos didn't do ours justice. We had a marble staircase, heated outdoor swimming pool, jacuzzi with light show, a very hi tech shower that played the radio station of your choice, a sauna and queen size beds.  And the other villa wasn't too bad either. We felt like rock stars in a pimped-up pad. We could get used to this.
A few people had arrived the day before and done a  big shop with supplies to keep the team going for several days, led by the fabulous food Marshall Anastasiya. But our first meal together was at a cheap but fantastic 'all you can eat' ridizio restaurant. The food just kept coming and so did the wine. Not bad for a first night!
Our dive centre for the week was Madeira Divepoint, located in front of the National Underwater park and the Eco Park, which we visited a number of times during the week. The dive centre had two hard boats and provided us with air or nitrox.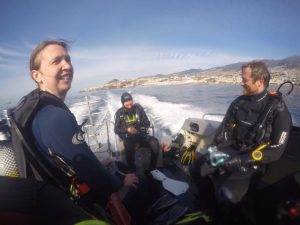 Our check dive was on the Carlton House Reef. It wasn't a surprise that, after Ophelia had passed near by, the vis wasn't great, but the water was lovely anyway. In the afternoon we  took a couple of boats out along the gorgeous shore line to the National Park area, Garajau. The vis was already loads better and we started to see some incredible sea life. The highlight was a 1.4 meter grouper which was just hanging around like she was expecting us. There were two groupers and they were very inquisitive and confident with us, so we all had a close encounter with one of them.
Marysya was diving with Dave Lock, and had seen a pretty little shrimp in one of the crevices, and was carefully looking in and observing it. She hadn't seen the grouper, which was bigger than Marysya, creep up behind her. The grouper was intrigued by what she was looking at and came and looked into the crevice as well. When Dave eventually stopped laughing and tapped Marysya to let her in on the joke, she had quite the fright when she turned her head!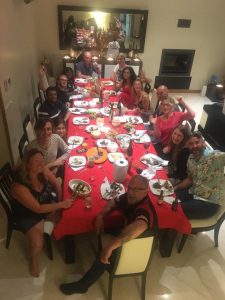 After our second dive we had a well-deserved drink at the pub opposite the hotel. Well, what else is there to do when you have to decompress for an hour before ascending 600m to our Mansion? In the evening we ate outside looking at the stars and the view of the twinkly harbour. The rota of cooking marshals meant we had home-cooked food on diving nights, which kept costs down and meant we could relax after diving.
The next day we dived 'The Arena', which Susie described as: 'as good as it gets outside the Red Sea', and I think we all agreed. The marine life was spectacular and we had vis of about 20 meters. Sasha saw a ray which we made us all very envious!
In the evening we were treated to a fascinating lecture from Dave Lock about the wreck of HMS Pathfinder, where Dave and his buddies had laid a poppy wreath and Union Jack in honour of the people that lost their lives.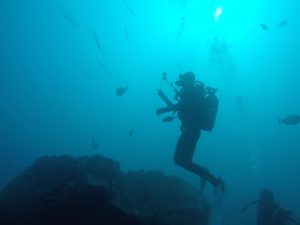 On the third day of diving we set off to explore two cone-shaped rocks that rose sharply from the sea bed at 30m, which we affectionately name 'Preeda's Pinnacles'. This was a mega chilled dive with the pairs slowly winding up around the rocks, which teamed with life. Moray eels lurked in many holes and one had even taken up residence in an old tyre. Jon Hubbs' keen eye spotted a large shoal of sardines in the distance and Harriet was lucky enough to see this fabulous sight too. The way they move together is a sight to behold, especially when three or four barracuda start hitting the shoal to feed.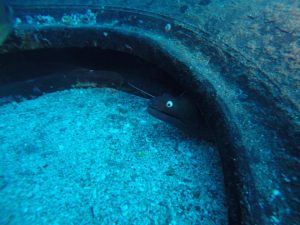 It turned out some of us had more interaction with the wildlife than others. Half a dozen trigger fish took a shine to JD's lovely dome and decided his scalp was very tasty. Back in the boat, we discovered a rather forlorn JD, his head streaming with blood. His buddy Anastasiya had jumped into action, especially when she saw the plumes of green liquid coming from the  savage attack. She donned her boxing gloves and, with the Rocky theme pounding in her head, punched the trigger fish until they realised it was a fight they weren't going to win. We all learned that, if you need protecting, Anastasiya is your woman!
Needless to say, when visited this site again dive site again during the week as there was so much wildlife. This time, JD put his finger too close to a Moray eel and got a lovely bite on the end of it.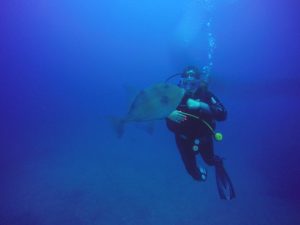 For the final day's diving we visited a couple of sites we had been to before, and some of us decided to do a third dive in the little bay where we had done our check-out dive. The guide showed us octopus, cuttlefish, underwater fresh water fountains and moray eels – a fantastic last dive for a spectacular week of diving.
For the last two days of our trip most of us opted to do some sightseeing. Turan and Adam had been appointed tour marshalls and had done a sterling job of researching where to go and what to see. We explored the forest at the top of the peaks, which was very lush and green and almost felt like rain forest, although some patches had been burnt in forest fires and looked quite eerie. We also visited the north side of the island, which made us realise how protected the south side was – it was very windy, and the waves and currents looked treacherous.
So that was our Clidive week in Madeira. We had a lot of fun and lots of diving. We got two new sports divers signed off, got up close and personal with a lovely grouper, and had some random injuries by marine life! I think we all made great friends on this trip and we are all excited to see what trips we can book on for 2018.
A particularly big thank you to Preeda for arranging the whole trip – she went the extra mile to look after everyone and make this trip really special. The attitude in BSAC of giving up free time to help other divers improve is amazing, and something all us fledgling divers are very grateful for.