By Soni Drew
Fellow CliDivers,
Let me tell you about a trip that Phil organised on the Maltese island of Gozo.
The Gozo trip became something of a CliDive tradition when member Joli Riley had a house on the Island, but had lapsed for a few years due to some (non-Clidive) incidents and a questionable legal climate. At last years' dive planning meeting, it was decided that now was the time to resurrect this popular trip.
The Gozo trip is a week of unguided shore diving around as many of Gozo's iconic dive sites as time will allow.
Getting there
Most of the group chose to fly on the same flight from Gatwick, so that was quite a social event in itself – I don't think I've been in a pub that early on a Sunday morning before!
Malta's airport is on the main island (there are three islands – Malta, Gozo and Comino), so getting from there to Gozo means a 20-minute ferry ride – just enough time to grab a drink! Fortunately, there are several very reasonable local transfer services, so getting to the accommodation was straightforward – a minibus met us at Arrivals and took us door to door.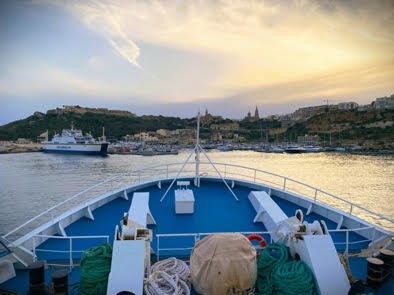 The accommodation
Both Joli and John Sharkey (another long-standing member) had recommended "Blue Waters Dive Cove" for both diving support and accommodation.
The accommodation was amazing. Dive shop owner Franco has turned his beautiful house – a minute's walk from the dive shop – into a six-room B&B, although it felt more like a hotel.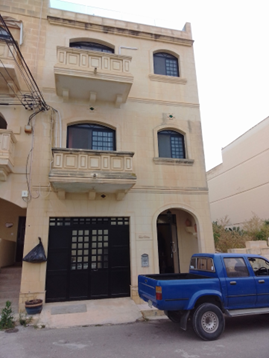 There were enough people in the group to book the entire house – each room had its own shower/toilet and lockable doors. Rooms at the front had balconies that caught the sun and were perfect for drying kit. At the rear were shared balconies that didn't seem to get any sunshine but we made do.
Breakfast was provided by a wonderful team, one of whom was a local Dive Master originally from Ireland. Dawn's knowledge of the area and weather was both useful and inspiring and made me want to get to the dive sites sooner!
Diving facilities
The dive package includes cylinder hire and weights with the option to hire anything you might need that you didn't want (or forgot!) to bring. Air fills are unlimited with nitrox available for a small fee.
Kit washing, drying & storage were the usual Mediterranean setup – a crate for each diver to store and transport equipment, dip tanks and drying racks.
Unguided diving
'Unguided' diving is a long-standing tradition in Malta and the reason it's so popular with British divers. Most dive centres offer the facility to hire jeeps and kit, so independent groups can set their own itineraries and manage their own diving.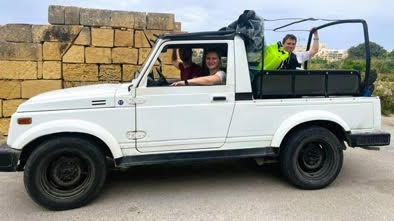 Phil had arranged three Maruti Gypsy jeeps. I have my own opinion about the vehicles [actually, these are the posh ones! Ed], but they did the job and there were no incidents to report. All I'll say is that it was a driving experience that took me back to when I learned to drive in the early 80s!
Maltese diving is mainly from the (usually rocky) shore, meaning some entry points are quite tricky in full kit. No site is more than half an hour's drive from anywhere, so transport logistics are fairly straightforward, once you've played kit Jenga in the jeeps! In order to provide shore cover, diving has to be in two waves, unless you have a kind non-diver who doesn't mind looking after the O2 kit and dive logs.
We did one day of hard boat diving and the main takeaway for me was to make sure the dive group are all aware of where they need to be and when, so as to not annoy the skipper who was keen to get off on time [the same rule applies to Clidive RIB diving, folks! Ed].
The Diving
Dive 1 – Dahlet Qorrot Beach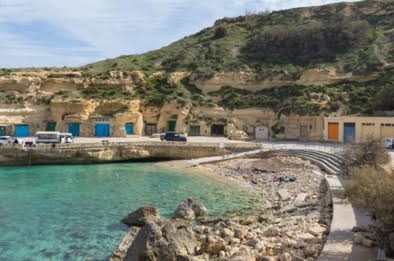 This was the shakedown dive site and it had a shallow and easy entry and exit. Water temp was 17C, which was a shock to some of the wetsuit divers! [It shouldn't have been – it was in the pre-trip briefing! Phil].
Dive 2 – Xwejni Bay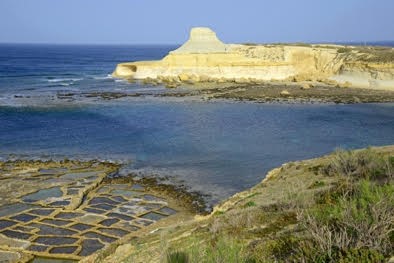 A shallow dive (my max depth was 10.5m) and the route taken was in search of the 'Bishops Butt'. This apparently is the location where a local Bishop used to swim naked. No bishops were observed on this day, however – just lots of fish and some breathtaking walls and gullies.
Dive 3 – Xlendi Tunnel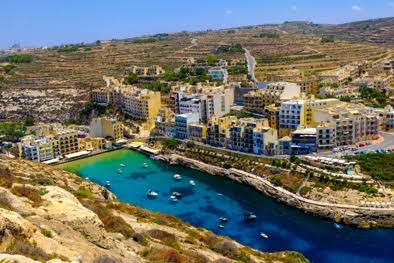 This was another shakedown dive for late-comers and what turned out to be a long surface swim for the first wave – apparently, the 'entertaining' swim back through the tunnel was made worth it by a long interaction with a pair of bold cuttlefish.
No cuttlefish for the 2nd wave, unfortunately, but the route through the impressive tunnel and a swim around the reef at the end of the bay afforded the opportunity to see a lot of life.
(Note to divers, read the Dive Manager's brief, if they say 'Bring a snorkel for surface swims' then that means bring a snorkel for surface swims – don't use your back gas.)
Dive 4 – Blue Hole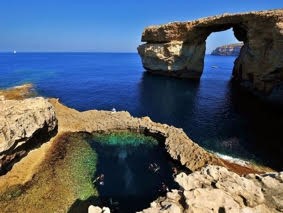 Contrary to popular belief, the blue hole itself isn't really the best thing about this site. The boulder wreckage from the collapse of the Azure Window (the arch in the picture) and the rocks and caves around the site offer far more to look at.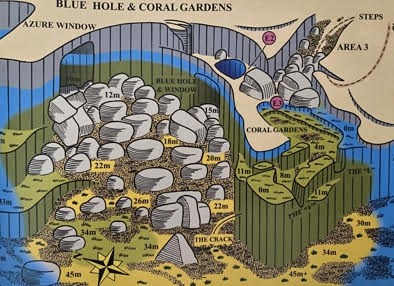 Dive 5 – Inland Sea
A truly impressive dive! The route takes you through a tunnel through the cliff out to sea and you have to be careful to stay close to the tunnel floor, as there are a lot of small tourist boats.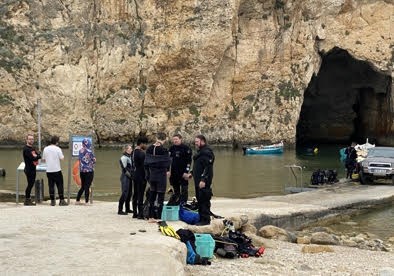 It's difficult to adequately describe how surreal it is to watch the end of the passage come into sight and then focus. Suffice to say that photos rarely do it justice. Phil says it's one of the most awe-inspiring sights he's ever seen.
Dive 6 – P31
This was the first of two iconic sites dives on the little island of Comino dived on our hard boat day.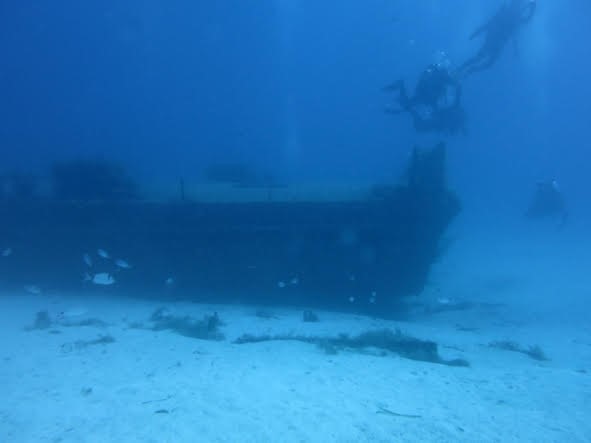 The P31 is an old East German minesweeper that found her way into the Maltese armed forces in the mid-1990s. She was decommissioned in 2004 and scuttled in 2009 to be a diving attraction. And attractive she is – made safe for divers without stripping her bare of details. All sections can be entered and exited safely, and a lot of the original equipment is still in place. The radio and torpedo control rooms are particularly interesting.
Dive 7 – The Santa Marija's Caves
A nice swim around a rocky bay with three caverns – one of which contains the impressive "Zorro" swim-through.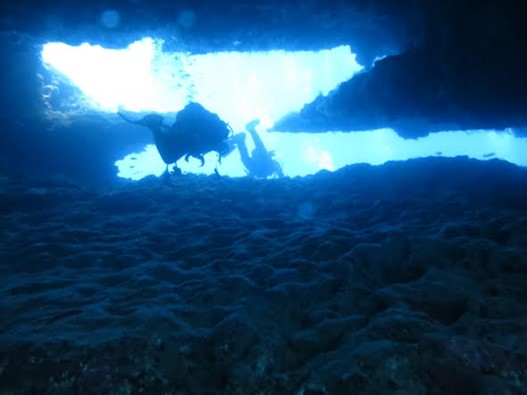 Dive 8 – Hondoq Bay Night Dive
After a thorough briefing from Franco, Phil led a night dive – a first for several in the group – in Hondoq Bay. Sadly, the bay was a bit barren of life, but we made the most of what we saw. And this photo was worth it on its own 🙂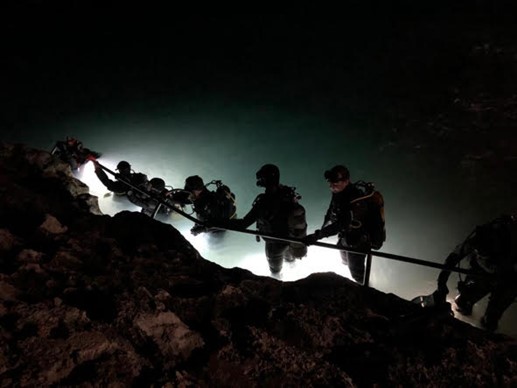 Dive 9 – MV Karwela
The Karwella is one of the iconic Gozitan dives – a decommissioned ferry that was scuttled to make an artificial reef. She is quite deep, but worth the effort – she is imposing and open and is the venue for one of the must-have Maltese diving souvenirs: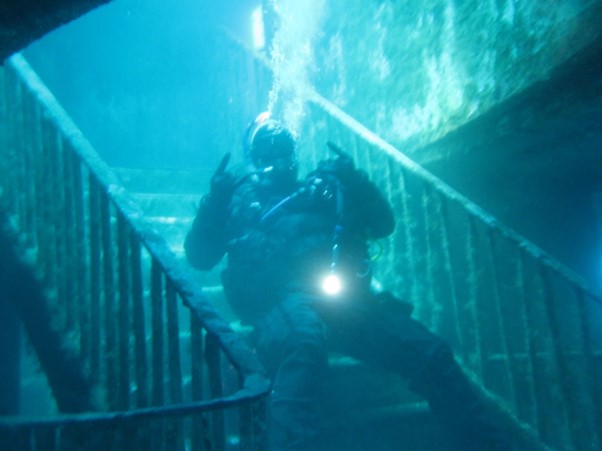 Dive 10 – Middle Finger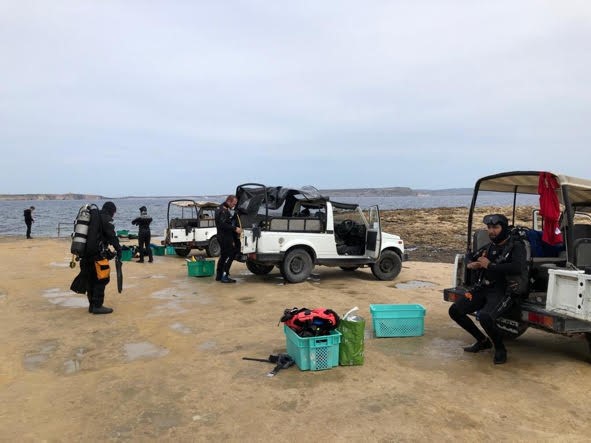 The last dive of the trip did not fail to deliver – once across the salt pans and in the water, you swim along an impressive wall for about 10-15 metres when an imposing pinnacle hoves into view. It is home to shoals of fish and an impressive multi-level kelp forest.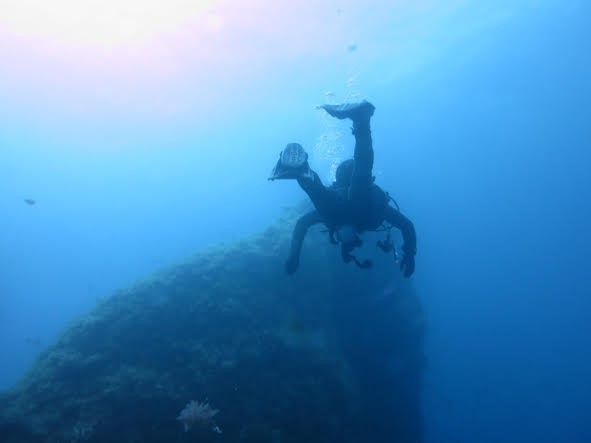 The other stuff
Gozitan restaurants are pretty usual Maltese fare – standard Mediterranean with added rabbit.
Beers are cheap and the bars plentiful.
Most of us were flying late on Saturday, so we had the opportunity to visit the Ggantija Temples – a truly awe-inspiring UNESCO heritage site that pre-dates Stonehenge. After that, we had lunch at the equally impressive Citadel (once home to the Knights Hospitaller) in Victoria.
Phil said he took this trip on to see if what he'd been told about Gozitan diving was true – is it really much better than diving on the main island? Turns out it is – despite being less than a mile away, it's like diving in a different country.
A wonderful diving destination that I'm sure we're all eager to return to.