A trip report by Cathy Kremer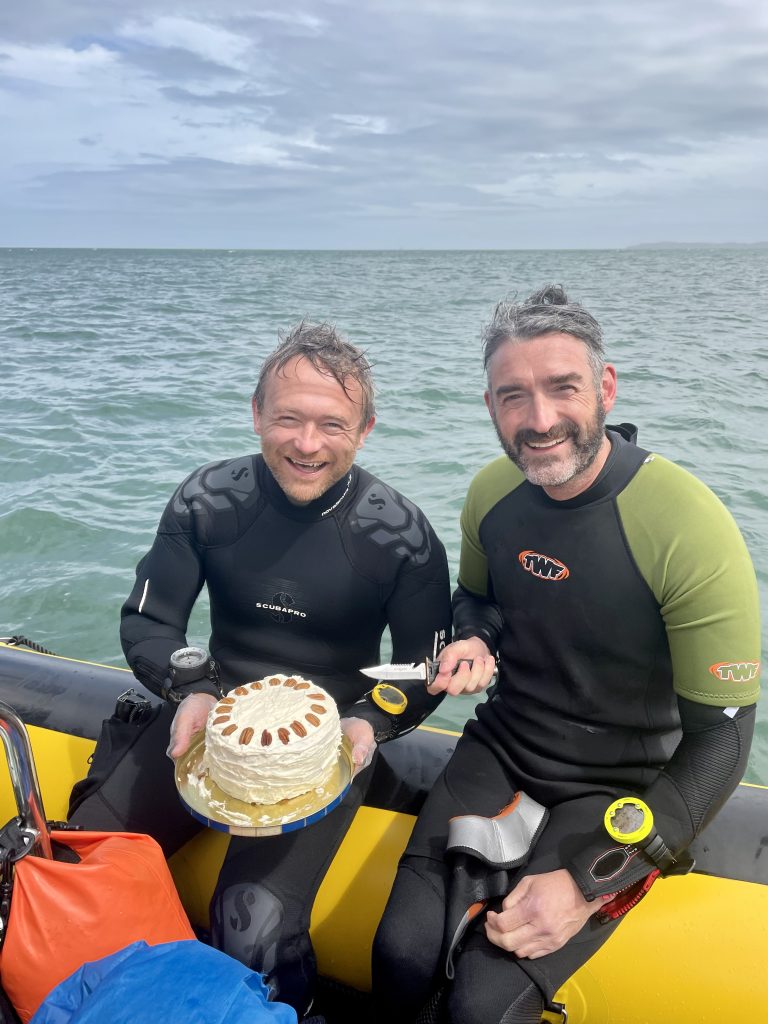 1. Let there be cake
… but not any cake! Getting served a three-layered walnut cake after a dive is key to a successful trip. Thanks to Jon the return to surface was for once as enjoyable as the dive. Hopefully some skilled baker is attending the next trip I'll be on…? Red velvet cake is very high on my wish list, so is carrot cake, but I'll be happy with any other option.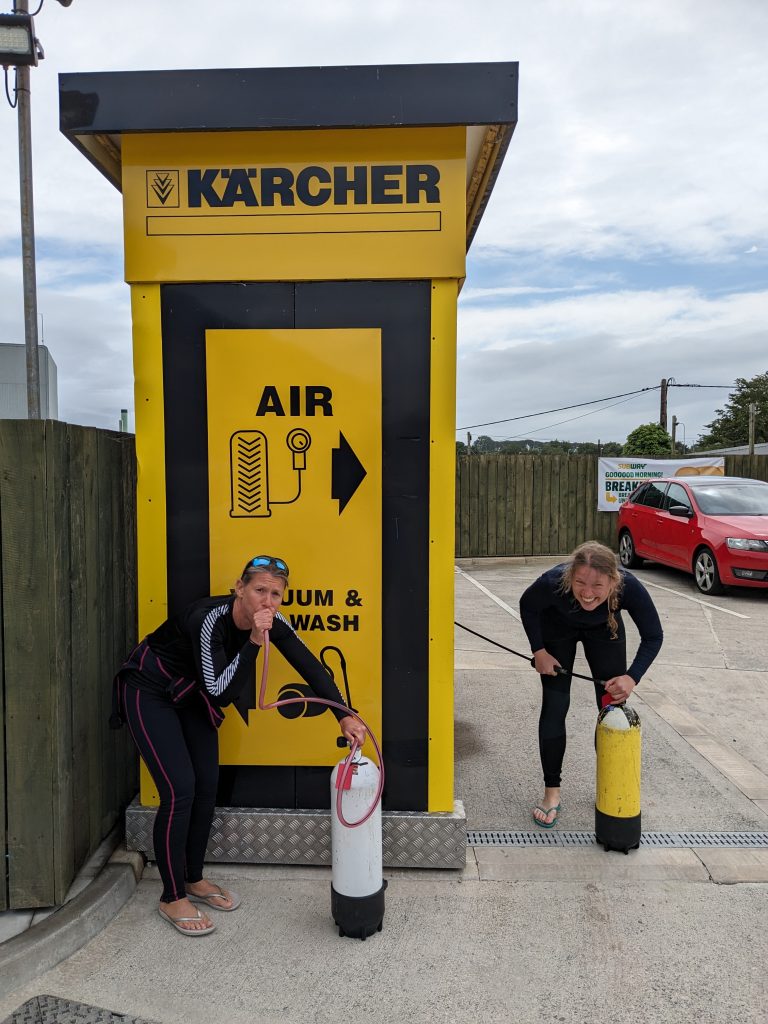 2. Cater for alternative air supply
Compressor filling options are unfortunately limited in Anglesey. Especially when the local dive shop who confirmed (via email!) that they would be open as per the usual business hours forgets to mention that they are at a BDMLR course that day. Your best options are the tyre air filling station or doing it the old-fashioned way.
3. John is NOT busy
"This is John. John is currently busy and unable to pick up his phone. Leave a voice message and John will call you back when he's not busy anymore." Whatever his voicemail says, we don't think John is busy because according to his text message he retired from being in the dive centre business. He sadly still did not offer to fill our cylinders.
4. Give it a shot
Literally. The knots held on very well. The tide rose. Therefore, can the next group who goes to Anglesey please check if they can retrieve the shot? Coordinates are 53° 25.264' N, 4° 30.666' W. Thank you very much.
5. Stay close to your buddies
High visibility dry suits don't exempt divers from losing their dive buddies. I will not mention any names. Happy to report though that despite this suspiciously happening twice, the lost buddy procedure was followed, and the divers resurfaced.
6. … but not close to the buoy
There needs to be some kind of revenge, right? The buoy attached to the above-mentioned shot line hit said buddy in the face. I swear it was not done on purpose (it really wasn't).
7. Get yourself into the Hall of Fame
Clidivers will now remain unforgotten in Wales as they are enshrined on the hall of fame of the local curry house who wanted to have a group picture. Not sure where the novelty was. Maybe English people daring to visit Wales??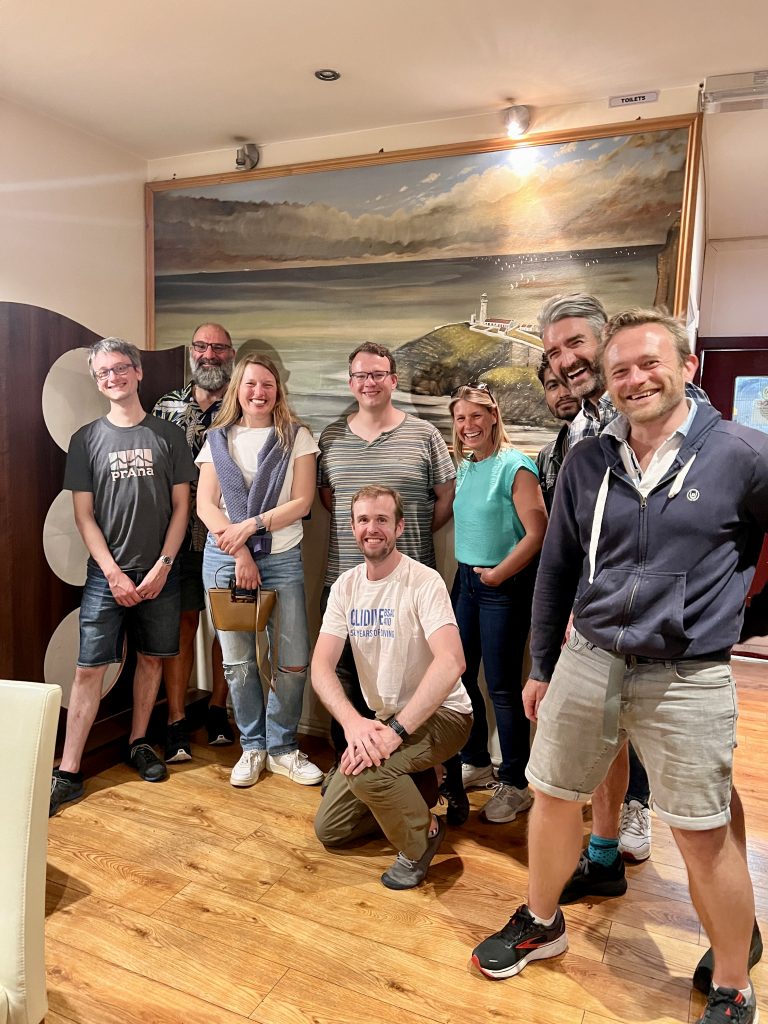 8. Choose between waiting for sausages and time for faffing
Difficult choice.
9. The next available train is the best option
Last but not least the railways decided Sunday would be a good day for some essential maintenance, which accounted for a long return journey. Nevertheless, even if the next available train seems full you should try to get on it. You may be able to hop unexpectedly on an earlier train that was delayed and be upgraded to Standard Premium due to a VIP and 300 people suddenly needing a whole coach.
10. Oh … forgot the diving!
We tried. Despite wind and currents. Dog shark, lobsters and crabs were spotted. Some lucky divers even found the flint and pottery remains on Flint Wreck!
Thanks, Matt, for organising the trip – when can we go back to Anglesey?