In mid-may, 18 Clidivers returned to an old favourite – Torquay.  Only 40 miles around the coast from Plymouth (our summer residence), some dive sites can be dived from both – ie the Persier.  However, whilst Plymouth claimed 40m vis on Hand Deeps that weekend, we had 1m.  All the rain we had at the start of May had caused lots of run-off so conditions were challenging!  However, the weather topside was superb with flat calm and sunshine.  We very successfully completed the practical part of Chartwork and Position fixing by navigating the voyage plans and shotting and diving the wrecks of the Dudley Rose (renamed Deadley rose due to pitch black and lots of fishing nets),  Lord Stewart (or Rod Stewart as it came back on the dive log), Bretagne, Perrone and Tucker Rock.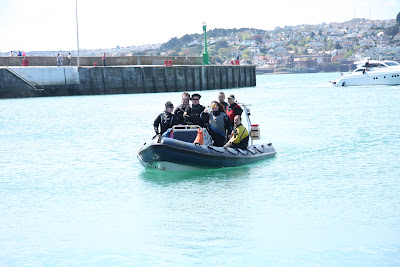 If anyone finds a 3l stage and regs on the Dudley Rose, please get in touch as I am sure a beer or 2 would be bestowed on the finder of such a prize.
Thanks to Torbay BSAC for allowing us to access thier compressor room – cheers to Lucy for pumping bottles for us all weekend :-)  
Many thanks to Keith for letting us stay in his house and organising a fab curry sat night.
More of James' lovely pics here
One of the shots from Pat's head-mounted video: