By Vineet Bewtra
After a tantalising kiss with Handa during a Summer Isles trip last year, Clidive decided to go exploring properly.  Chris put together an adventurous plan of experimental diving on various marks.  Gillian suggested June would definitely be the best time of year for the sun, and volunteered to tow Yellow from East London.  We would have to take our own compressors.
A rota was pulled together for the week for cooking, tank-filling, boat prep, lunch prep. And thus, an ocean's eleven of Clidivers finally made their way via planes, trains & automobiles to Kinlochbervie in NW Sutherland – our home base for the week.
Saturday
A mountain of food was picked up in Inverness, and Yellow was safely launched down the narrowest slip some had ever seen.  The only drama was Ian getting locked in the toilet after he broke the lock (and trying to escape through the back)…
…knocking over a beer at dinner and then later during the same meal revealing to someone that "I've played with a couple but none as big as yours".  Oo-er, what is it about this fresh Sutherland air?
Anyway, during his research, Chris had discovered that many of the Admiralty charts for the area dated back a century, and that not much was known with certainty about local tides, with tidal diamonds being quite offshore.  Slacks could only be sketchily estimated, and careful pilotage might be needed by coxswains to avoid uncharted rocks.  So we all approached the next day with the right mixture of excitement and trepidation.
Sunday
The day dawned sunnily, and we were off – more or less bang on time for ropes off.  As we pootled out, Eleanor spotted some dolphins.  Big dolphins.  Lots of dolphins.  Hunting (judging by the birds flocking above).  It was so still and the dolphins were so close, that we could hear them breathe through their blowholes.  Our Expedition Naturalist (Marysya) identified them as white-beaked dolphins.
We got to the first dive site at South Am Balg (58.32.629N 5.7.246W, 25-28m max depths dived) and it looked quite calm – we saw puffins and seals bobbing about as we got there.  The seals were skittish throughout the week, wherever we saw them, which suggests that this area is indeed not that regularly dived and so humans remain an uncertainty to them (a good thing!).
The water was a bracing 9-11C said Yellow's electronics.  And the first pair were in!  A short while later, the second wave in too.  About 10 mins after the first pair, we saw the first DSMB – a bit early, but we thought perhaps it was the cold or something else that was making them can it.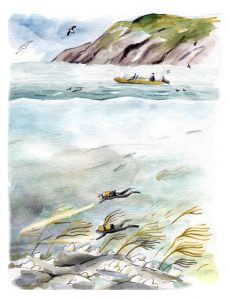 I was in the last pair with Chris, and as we descended, we discovered a current below a deceptive slack on the surface!  We made our way into a gully for some shelter (a fleeting glimpse of a squat lobster), but whenever we popped out, we were flying.  In places the kelp looked like it was getting the hairdryer treatment (as the sketches from the Expedition Artist – also Marysya – show). Eventually we drifted around the sheltered side of Am Balg and into the slacker top layer bobbing around to be picked up.
After an eventful but fun  first dive, we headed off towards Sandwood Bay beach.  Colin dropped us all off and went exploring on Yellow, while we lunched on an empty, beautiful, sandy beach with crystal clear water calmly lapping at the shore.  Is this really Scotland (or even Europe)?!
The second dive, at Rubh an Fhir Leithe (58.31.417N 5.6.781W, 22-26m dived) was much less eventful.  Back at base, and based on our now direct knowledge, Chris recalibrated the timing of when the currents seemed most active, and we factored that into the  planning for the next day.
Monday
Chris' re-planning worked, and Monday's dives were uneventful at West Dubh Sgeirean (an undersea mark at 58.26.319N 5.8.366W that rises like a semi-circular wall, 27-34m dived) and South Sgeirean Cruaidhe (a wall at 58.26.106N 5.7.307W that falls steeply away from some permanently exposed islets, 26-35m dived).  Spotting highlights belonged to Rebecca and Brian, who were the first to see both an octopus and a seal.  We were all expecting them to announce a treasure chest as well…
Tuesday
This was planned deco day to allow folks to stay down longer.  So for the first dive, everyone ponied up, agreed deco times ranging from 2-8 minutes with their buddies, and we went in at North Eilean an Roin Mor (58.28.679N 5.7.876W, 28-31m dived) to dive a wall that follows the coastal formation.
Eleanor was my buddy, and this was definitely a learning day for me.  For all Dive Leader trainees like me, tip 1: don't let your pony have a long tail, that stuff about forming one buoyancy unit really does make a difference (even by a few centimetres, which shows that sometimes there can be such a thing as too many inches…).  As my trim got buggered (even with pre-emptively redistributed weights) I guzzled more gas than normal, and spent most of the time focused on that while Eleanor found a couple of elegant dogfishes, and a largish octopus (judging by its tentacles) nestled in a crack, glaring at us with an eye full of alien intelligence.
The most bizarre spotting was of half an octopus' head – clearly eaten by something – while nearby a sea-urchin munched on a starfish.  Perhaps that explains our octopus' suspicion.
Lunch was at Oldshoremore, another beautiful, empty, sandy beach, where Lauren joined us from the shoreside as Expedition Landside Photographer.  The sun even peeped out while we ate, as her photo shows. Isn't that an album cover waiting to happen?  Prizes for coming up with a band and album name – Sharkey is clearly our lead singer.
The second dive was around the corner from the first, at South Eilean an Roin Mor (another wall at 58.28.347N 5.7.992W, 25-28m dived).  A prettier dive than the first, with a few almost garden-like gullies and a few dead-end gullies.  I spotted my first ling (I only discovered it was a ling when our Expedition Fish Specialist – Eleanor – explained that back on Yellow).
And for all fellow practising DLs, tip 2 from me: when you dive without the pony, do remember to re-balance the weights you'd rebalanced for the first dive (doh).
An eventful day, and one that was  packed full of learning and things to see.
Wednesday
This was the day – Handa itself.  The winds were south-westerlies, so we'd have to stay on the North side, but it beckoned and so we were off.
A cold, grey, wet day (Gillian are you sure about June in Scotland?).  "Why do I do this in the UK" I asked myself silently, remembering the last two days, looking at the conditions around us.
Rebecca motored us through the force 3-4 weather in about 40 minutes.  The 100m high cliffs loomed magisterially as we approached.  Looking down at us and out across the ocean, they seemed to say with calm indifference to both audiences "we have been here many aeons, and we will be here for many more".
There were thousands upon thousands of birds.  Our Expedition Naturalist pointed out to us the guillemots, the kittiwakes, the razorbills.  We could tell the puffins, and some adult greater skuas also popped in.
We came up to the Great Stack, and the conversation trickled to a halt as we just looked up and around us.  The density of birds, the vertiginous walls, the grey ocean – a glimpse into a place full of life.
There's not much point diving the foot of the Great Stack itself as it only goes down about 10m, so Chris & Rebecca explored a bit further away, and made some marks at 58.23.304N 5.11.840W (24-27m dived) where the bottom was a bit deeper and where if you headed north you could find more depth if you wanted.
Eleanor, Gillian and I were diving as a three (I was practising my DL dive-leading) so we dropped in and were off.
And…OMG.  This is why we do UK diving.  Just a beautiful, fantastic, amazing dive.  We headed north and dropped into some gullies.  Heading deeper, gently & slowly just following a white sandy bottom as it meandered away.  Soft corals & urchins, on both sides, lots of cracks and crannies.  From one of which we saw the front limbs of what we think was a huge spiny lobster (aka crayfish) – maybe two feet long?  After gawping at that, we wandered a bit further and there we saw a beautiful golden octopus.  It saw us too, and jetted across to the opposite side of the gully, before delicately curling its tentacles, settling down and camouflaging itself to look back at us.
As Eleanor kept watching that, I went back to tell Gillian what we'd spotted, to find her getting super-excited about a monster 2-3 feet long crayfish out in the open.  It was like seeing King Kong – its attitude was "I'm big, I'm here, I don't have to hide".  No goodie bag was big enough for it (and you couldn't really even try to catch something as remarkable as that – and anyway it would have taken a big chunk of the back of Yellow to carry it!).
Visibility was about 8-10m (I'd say more but I'm not a great judge of distances so I'm erring on the side of caution), so for a few moments, if I turned left I could see Gillian excitedly calling Eleanor to come see, and if I turned right, I could see Eleanor simultaneously excitedly calling Gillian to come see!
We eventually decided to head on, until time came to send the DSMB up and start the ascent.  As we floated up, at about 6.5m, I looked to the left and there behind  Eleanor was a bird swimming along using its wings like fins!  A guillemot.  (Quite a few others saw them as well – including Ian & Marysya who spotted razorbills as deep as 10m).  Not just diving in, and heading back out, but calm as you like swimming along, checking us out.  And then a few pulsating jellyfish arrived, just hanging out.
A-ma-zing.
Stoked from all of that, we went off to the mainland-facing eastern side of Handa, where Colin dropped us off to wade ashore to a small beach for lunch.  While there we saw the skull of a beached whale that had been washed up about a decade ago, and an old graveyard – apparently when there were still wolves in mainland Scotland, nearby villages would bury their dead on Handa.
The second dive was Handa North Point (58.23.463N 5.10.722W, 27-32m dived).  Another beautiful series of ledges dropping away – with great visibility once you got deeper.  Lots of soft corals.  A more uneventful dive than the first – only the one octopus sitting in broad daylight pretending to be a rock.
After a knackering day, I drifted off asleep on the living room floor near the toasty fire, while listening to Colin and Ian talk about ox-stop tables…
Thursday
I decided to spend the day ashore & recharge a bit.  And on opening the curtains and looking out the window, that felt definitely the right call.  There was so much mist that you could barely make out the island (less than a mile away) at the end of Loch Clash.
Gillian confidently declared that this was just a haar, and would burn off.  And lo and behold, that's indeed what happened as a beautiful sunny day emerged.  The photo shows the same island later in the morning.
The dives that day were at South Eilean na Saille (58.25.640N 5.7.245W, 27-38m dived) in the morning, and Bodha Druim pinnacle in the afternoon (58.25.066N 5.7.711W, 30-34m dived).  I'm told the most eventful thing happened to Brian & Marysya.  Not only did they discover something that they thought was a swim-through (but which was too small at the end and so they had to turn around), but a piece of kelp attacked Brian and wrestled one of his weight pockets out.  Luckily, he not only realised that before beginning his ascent, but also did an expert retrace search-and-recovery and found it.
On other training front, Ian was ratified as a coxswain (hurray!).
Friday
The day before, the chandlery had said that Friday was going to be "a belter".  Which turned out to be an understatement.  The day was spectacularly sunny & warm (hotter than London).  The swells from the SW weren't that big at all.  And so Eleanor as DM took us north towards Cape Wrath.
On the way there, the first dive was at a site that Colin had seen just up from Sandwood Bay beach – officially called North Keisgaig Cave (58.35.297N 5.1.182W), but which we monikered Colin's Cave (photo credit Gillian).  We all dropped off in its mouth and as it became shallower further in, we instead explored the outside wall (23-26m dived).  No kelp, and lots of stones and boulders so lots of nooks and crannies to explore.
I dived with Brian, who continued to spot great stuff (including an octopus that squirted a jet of ink to distract us), various nudis, decorator crabs and other micro-fauna.  Other pairs also discovered the bodies of two dogfishes being eaten by crabs.
Next stop was Cape Wrath and lunch "at a little beach around the corner".  It was quite something seeing such a formidably named feature on a spectacularly sunny day.  We were all tempted to make an offering to Neptune.
And that "little beach"?  Well, that was yet another typical Clidive understatement.  Kearvaig beach was just simply stunning – probably the best of all the ones we lunched on.  Remote, surrounded by cliffs, it was a pristine, blazing, big wide strip of golden sand.  Not a bad spot for sandwiches, pork pies, scotch eggs, and of course cake.
After lunch we went off for the last dive of the week, to Duslic Rock (a short distance north of Cape Wrath at 58.38.160N 4.59.108W.  An exposed site, it can only be dived at slack due to the currents.  A seal was basking atop it as we pootled up.  Everyone kitted up and we dropped in (28-29m dived).
Once you were out of the kelpy bits, it was a very pretty site indeed.  Lots of grottos, with loads of jewel anemones.  My mask was flooding a fair bit (spare mask!) so that distracted me – but even with that, it was clearly a very nice site.  Other dive pairs saw lobster and octopus too.  Loads of fry around.  As our Expedition Naturalist noted, not only was it abundant in life, but also high in species diversity.
In fact it was such a pretty site that there was much discussion afterwards as to whether Duslic was a better site for jewel anemones than Eddystone or Hand Deep or Hatt Rock (opinion remains divided so you'll have to go see for yourselves).
All in all, a perfect location for our last dive – we were very lucky indeed.  And oh yes, on the way back to base, Eleanor also got her diver coxswain (hurray some more!).
All that was left for the day was to retrieve Yellow from the water, and start preparing for the long journeys home the next day – after a delicious, hearty Highlands meal at the Old School House overlooking Loch Inchard.
Conclusions
This was a great trip.  Amazing sights – above and below the water.  Fantastic amounts and diversity of life – our Expedition Naturalist identified at least 103 different species during the week!  Lots of training, learning & progression – even for Colin as a National Instructor (personal beer fridges are now on the compulsory kit-list…).  A fun & friendly crowd of people.  Everything that UK diving & a Clidive trip should be about.
A huge thank you to everyone who made the trip what it was.  A special shout out to Gillian for towing Yellow, for trying to kill us all with cooked breakfasts every day (haggis, eggs, square sausages, Stornoway black pudding…), and – yes – for being right about Scotland in June.  Most of all, a huge thank you to Chris for having the idea, doing the research & planning, and recalibrating the slack times!
For anyone thinking about whether to dive up there, it's a no-brainer.  If you treat the waters up there with the respect they deserve, you will be richly rewarded.