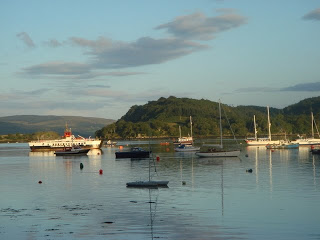 The weather has been pretty kind to us this week. Today we headed out to Coll, and had a lovely dive on the Tapti, a wreck lying in 26 metres. The usual plethora of anemones, including our new favourite burrowing anemones. Is it a worm? Is it an anemone?
Above water we were treated to a large group of basking sharks, hanging out and feeding around the shoreline – lovely. Then we headed to Coll for lunch, and spent a miserable half hour eating soggy sandwiches in the midge-infested rain.
Our next dive was on the Cairns of Coll, a site for macro-life lovers.