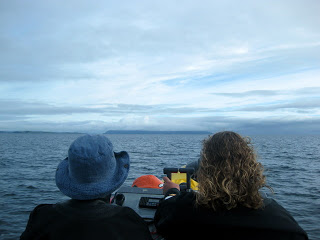 The sea was still flat, so we headed out to the Great Wall of Eigg. As this is the Hebrides, we saw the usual seals, basking sharks, porpoises, and some massive bottlenose dolphins, bow riding under the boat, leaping out of the water and chucking fish in the air.
(a lunch break on Eigg.)
Our second dive of the day was on the impressive wall at Bo Fascadale, which drops down from 3m to 60m+.