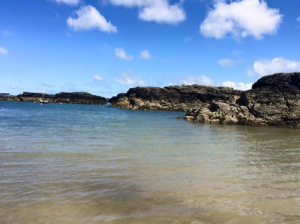 In late July, a hardy group of Clidivers braved both the national railway network and the vagaries of the Welsh weather as they embarked upon a long weekend of diving, delectable dining and diversion in Anglesey.
With Clidive Yellow safely in the water at Holyhead marina, and the group arriving in stages at the old schoolhouse that was to be our home for the trip, those lucky. enough to arrive in time were treated
to a culinary tour-de-force courtesy of Preeda and Anne
After a restful night, the group embarked on what was to be a weekend of interesting and at times reasonably challenging diving. At the mercy of changeable weather conditions, the group nonetheless managed to pack in a number of wreck dives, a shore dive, a drift or two and some close encounters with various crustaceans.
Visibility ranged from a few metres, to an occasional half meter in the silty waters of the north coast of the island. The amount of local underwater fauna was a sheer pleasure, and even offered opportunities for the aspiring foragers in the group, although I don't think the local lobster community ever had anything to be worried about, as they all managed to survive the weekend.
In all a very enjoyable weekend, with
good company, excellent home-cooked food, and most importantly some very good diving.
A big thank you to Dan Klein for organising the trip, and to all those who produced such delicious meals. I look forward to the next Welsh diving adventure!
by Tom Hughes