As the so-called summer weather continues undeterred, so does Joli and her commendable mission to ensure that everyone in the club is qualified to their maximum potential (first class diver at least!) and so we found ourselves in the lovely surroundings of the Mountbatten Centre in Plymouth once more, for a fun-filled forage underwater.
We had a large group of trainees and so two boats were launched and fully prepared to be filled with brave learner divers. The lessons were varied as we had students from Ocean to Sports Diver, Dive Leader and even Diver cox'n too, all eager to gain more experience and get their qualifications signed off.
I was tasked with helping out with the Ocean Diver trainees. I was very happy to do this – not just because we got the yellow boat but also because I had been involved with these trainees in the pool and it's really great to see their progression from nervous newbies to calm, collected and (most importantly) neutrally buoyant, competent divers :)
We headed off to the sheltered waters of Cawsand Bay to drop the OD's in for their first dive in the sea…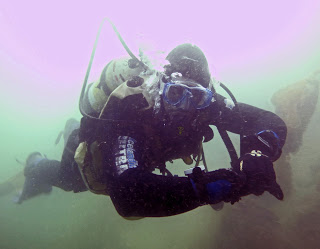 Although looking at the photo, it looks like Phivos has been diving for years!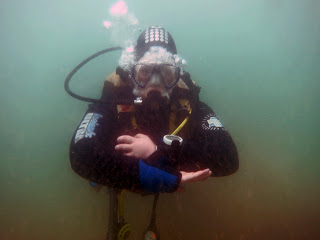 Angie, on dive two also looking pretty good underwater.
Day two saw some more stringent exercises for the OD troops and in the morning, we headed off again to the sheltered bay of Cawsand for some alternate source (AS) ascent exercises. We dropped in a shot and both Angie and Leanne followed me down the line to the sandy bottom… except there was a problem and I found the shot had taken root in a isolated patch of kelp! Some frantic finning and in-regulator swearing followed (by me) and soon we were all set to go. Both divers performed excellently with their AS asc
ent drills.
For the final dive we took the OD's to the Breakwater Fort. Angie and Leanne descended to the bottom to practice their dive leading skills, as a buddy pair, with me in close proximity. Apart from the silt it was lovely down there, we even dropped straight down on to a bed of pink sea-fans and I'm happy to report that all the sea fans are still there and intact.
Thanks to Joli, Ben, Nat and JD for instructing and Simon, Christian, Dan, James and Laura for assisting us brilliantly… it's exhausting work, as a Clidive instructor, as I'm rapidly discovering and all our helpers are very much appreciated.
A special mention too, of course, for our fabulous president Keith for his expertise and patience as our skipper on Clidive Yellow.
Finally congratulations to all the trainees, everyone took successful steps toward their goals and Gary even passed Ocean Diver! – well done all.