Today it was quite a bit windier, and it's forecast to get much worse. The Met Office says that week 2 will be brought to you with the number 8 and the letter E. Good luck!
This morning, we did a screaming drift through Bluemull Sound between Yell and Unst, dodging the ferries. Normally we do drifts at places like Grove Point in Portland, where you only see what's ahead of you when you hit it. Bluemull Sound is a bit different. We watched the boat following our SMBs from 20m and saw the flatfish fly by. We stopped for lunch at Gutcher on Yell. Sadly, there are no pictures of Mike falling in the water from the boat, then bravely going diving in his rather damp undersuit, but here's one of Sharon making friends with the ferry skipper. They are discussing whether we really meant to dive Bluemull when it was drifting that fast.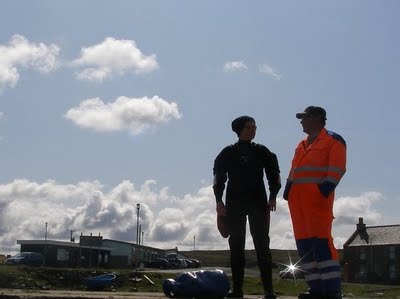 This afternoon, we dived a nudibranch filled wall and gulley at Balta. There were big shoals of fish too.