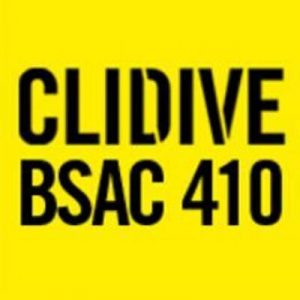 Happy new year to all Clidive members and friends! In this short Newsplash:
Looking back: highlights from the 2019 Annual General Meeting, including the new committee; don't forget to buy your 50th anniversary t-shirt.
Looking forward: the 2020 dive programme; upcoming training; early 2020 social events.
AGM 2019
This year's Annual General Meeting included reports from all the committee members who have worked so hard to keep the club going this year.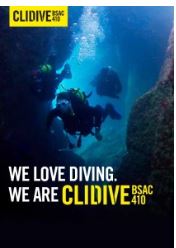 Among the headlines:
73 divers did 983 dives over 70 days of diving in 2019.
48 days were in the UK, 22 abroad (Red Sea, Croatia, Sardinia and Normandy).
Only nine days had to be cancelled, compared with 24 in 2018!
We probably won't look to buy a new boat for a couple of years…
…but we are looking for a new van, as dear old Orange is on her last axles. This will probably cost us around £14k.
The kit cupboard has been transformed, with new shelving, boxes and a gas tracking system for cylinders. Still more planned, particularly better kit tracking.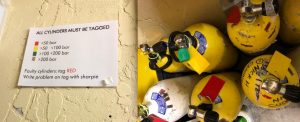 Member numbers are still very healthy (NB They include course participants, who don't necessarily continue with the club).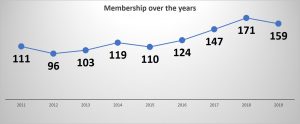 We still haven't achieved a gender balance among members, but the committee is almost 50/50.
The committee has done some work to encourage less confident people to get more actively involved in the club, including introducing more mentoring (e.g. for dive managers) and more checklists. [Actually, the confident people probably need the checklists more! Ed]
Eleanor wants to re-energise the Environmental Officer role, where she hasn't been able to be as active as she had hoped. She will also be looking for somebody to take over the role in due course if the Committee feels it is a useful one.
As a club we need to do more to keep existing members engaged as well as those who join as qualified divers. We are looking at options [all ideas welcome!].

Huge thanks to outgoing committee members: Gillian Bell (Diver Development Officer); Richard Kelly (Training Officer); Steve Walsh (Bosun).

A particular thank you to Bosun Steve, who has had to step down from the club. He has worked tirelessly to keep the boats maintained, and has also been a very active and enthusiastic instructor over several years.
The New Committee…
…doesn't look massively different from the old one.
Re-elected for a further term were:
Chair

: Neil Rickards

Diving Office

r

: Chris Wilson

Equipment Officer

: Rebecca Oliver

Treasurer

:

 Ian Baker

Membership Secretary

: Harriet (Hat) Cross
Secretary: Katy O'Connell
Other posts (appointed by the committee):
Training Officer: Mark Kelly new
Diver Development Officer: Elaine Hendry new
Bosun/van: Nick Harrison new
Webmaster: Mark O'Loughlin
Marketing & Comms: Emma Stacey
Environmental Officer: Eleanor Partridge
Social Secretary: Nick Allibone
Awards!
As usual, the AGM also included the presentation of our annual member awards. Unusually, all the recipients (except Martin) were present.
This year's deserving winners were:
Diver of the Year (John Rycroft memorial shield): Eleanor Partridge
Trainee of the Year: Clarissa Horilczenko and Martin Boxall

Advanced Trainee of the Year

: Giovanni Corriga

Instructor of the Year

: Ian Baker
50th Anniversary T-shirts
We still have a few left. They are beautifully designed,  excellent quality and extremely good value.
Cost: £10
Contact: Nick H (Sr) nick@clidive.org
Diving fun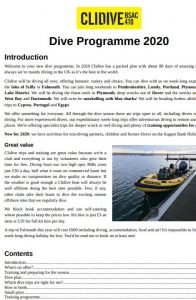 As is traditional, Diving Officer Chris Wilson presented the 2020 dive programme at the Christmas Party.
It was also posted on our website, along with our amazing 'brochure', which explains more about the various destinations, gives tips for choosing the right diving for you, and explains how to book (as well as what's in the small print).
If you haven't yet read it cover to cover, now's the time to do so – bookings are already coming in, so don't miss out!
Training fun
Also on the website is the training programme for 2020. Following on from a very active year in 2019, we have tried to ensure there is plenty for everybody.
If you're looking for some training that isn't on there, please get in touch and we'll do our best to help. Contact: training@clidive.org
Refresher training: 16 January
First up for all members is an opportunity to brush up on your skills before we get immersed in formal courses.
Please contact training@clidive.org if you want to come along, so that we can make sure there is enough kit/instructors for everybody.
Ocean Diver course: starts 23 January
Following two successful Try-dive sessions in December, this course is already full. The next course will run in May (Try-dives in April).
Sports Diver course: starts 13 February
The theory and poolwork is open to anybody who has completed the Ocean Diver course (even if you've not had a chance to do much diving yet). It's also recommended for PADI divers wanting to cross over or further their training with BSAC.
More details on the website. Contact training@clidive.org to book.
Non-diving fun – 2020 Social Events
January
Friday 24 Jan, 7.00pm: Burns night supper
Porchester Hall, W2 5HS
Join us at the Ceilidh [kay-lee] Club for a Burns Night supper and dancing.
This is the traditional Scottish celebration of the immortal poet Robert Burns – which is really just an excuse to eat, drink and dance traditional ceilidh [kay-lee] reels. You don't have to know the dances as the 'caller' will walk everyone through the steps – they are really easy to pick up.
Guaranteed fun for anyone that takes part. Get your own ticket and let gillian@clidive.org know that you're coming, but don't wait too long as this sells out fast….
Cost: £39
https://ceilidhclub.com/event/burns-night-london-24-1-20-porchester-hall/?tickets_process=#buy-tickets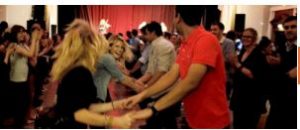 February
Friday 7 February, 7.00pm: Escape rooms 
School of Witchcraft and Wizardry – Million Pound Heist – Team of 3
Puzzle your way out of the room with your team against the others! Note – there is strobe lighting.
Cost: £30
Only 6 spaces on this so be quick to snap it up! Contact Nick (Jr) social@clidive.org
March
Saturday 14 March: country walk in Kent
This will be an all day walk – it won't be hard, but it will be long. Pub lunch on the way and other refreshment stops as and when required. We will travel there by train.
Cost: Free (other than transport/refreshments)
Contact: Nick (Jr) social@clidive.org