Not to be deterred by a force 11 gale warning, we headed straight into the eye of the storm to see how far down the Sound of Mull we could get. The answer was, not very far. We had a great dive on the picturesque Hispania wreck, which was on fine form today with beautiful clear water, and for most of us, perfectly slack (sorry Ben and Paul).
After a rainy lunch stop, we headed out to the relative calm of Loch Sunart, to dive Risga Pinnacle. But not before Neil heroically leapt in the water to rescue a yacht that had become trapped on a mooring line, and we'd all had some tasty cake provided by the skippers.
Risga made a lovely final dive to the trip, covered in squat lobsters, celtic featherstars, peacock worms and burrowing anenomes.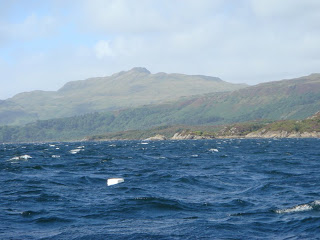 Above – white horses in Loch Sunart.
Below – a hearty and very welcome meal at the end of the trip, which was followed by drinks in the Mish Nish, and for some a 6.30am ferry the next day – ouch.