May 2023 Pembrokeshire Trip report by Cathy Kremer
space
Loads of firsts for me on this trip, including first trip with Clidive, and first UK diving. I had had no particular expectations and was amazed by the fauna and flora of the Celtic Sea. The marvellous sunny weather made it an even better experience.
Saturday – day 0
Most of us made the way to Milford Haven in Pembrokeshire on the Saturday, muddling our way through traffic congestion alongside holidaymakers hitting the roads for the bank holiday weekend.
Milford Haven's port is a cargo port, known for supplying the gas demand. It is not your usual tourist destination. It nevertheless had a beer festival on the day we arrived which was very popular with the locals (hunting for English people…). But after launching Clidive Yellow into the marina and checking in at the B&B, the festival (and restaurants) had unfortunately already closed.
Sunday – day 1 of diving
Our first dive was at Saint Gowan Shoals where we saw several large blueish and squishy looking jellyfish, dogfish and nudibranchs. Due to lack of cameras on the first dive the jellyfish species has unfortunately not been identified with certainty [Ed: They were definitely Barrel jellyfish!]. I was impressed by the abundance of life, and it was my personal favourite dive of the whole trip. Thank you, Debbie, for the patient introduction to BSAC diving!
Our second dive was on the SS Dakotian, lying at a depth of around 15 metres. It sank in 1940, having been hit by a magnetic mine, and its bow is broken in pieces. I couldn't locate any of the Christmas puddings it was apparently carrying, but saw some crabs and small life, including jewel anemones, nudibranchs and sponges.
Monday – day 2 of diving
On Monday Niovi was in charge of the dive management for her Dive Leader course.
She first brought us to the MV Lucy, which lies relatively intact at about 40 metre deep. The 52 metre long coaster sank on Valentine's Day in 1967 after having hit a reef, and is majestically resting upright. We had a great dive as the visibility was splendid and there was no current. The vessel's holds were inhabited by spider crabs and a big lobster crawled out of its hiding place to say hi. Behind the holds and about 4 metres higher sat the engine room and crew quarters, which are all still relatively intact.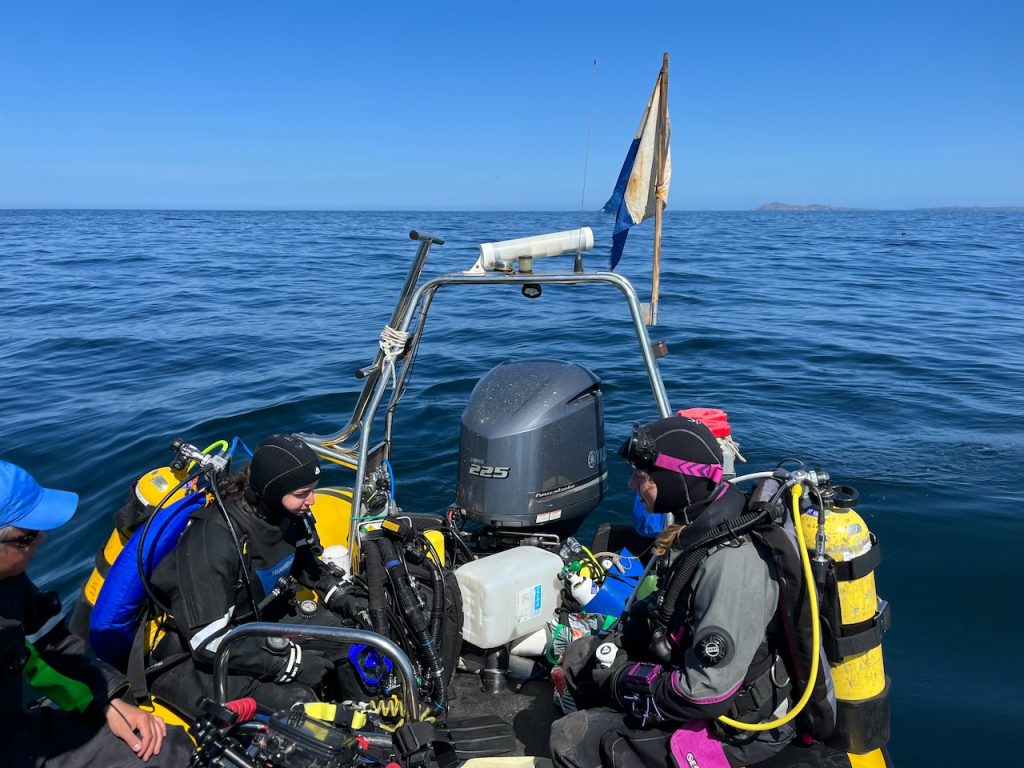 In the afternoon we visited the Skomer Island's North Wall. The reef drops down to about 40 meters and there was a lot of life to be seen. Here we came across velvet crabs, plentiful of nudibranchs, sea urchins, and common starfish. Some lobsters were peaking at us from the pots they were caught in.
We ended the day with a dinner at one of the local Milford Haven restaurants arranged by Alasdair and said our goodbyes to Colin who had kindly accepted to be our dedicated cox'n for the first two days and to share his wisdom with us.
Tuesday – day 3 of diving
Day 3 of diving was seal-day. We met the first ones lying on a rock at our first dive site for the day near Garland Stone at the Northern point of Skomer Island. We descended along the reef which was a very steep drop off and encountered velvet crabs, edible crabs, crayfish, and plentiful of dead man's fingers. Some buddy teams had to fight a lot of fast current, opposite to the expected direction. Despite our best efforts in signalling seals Niovi and I could unfortunately not attract any during our dive.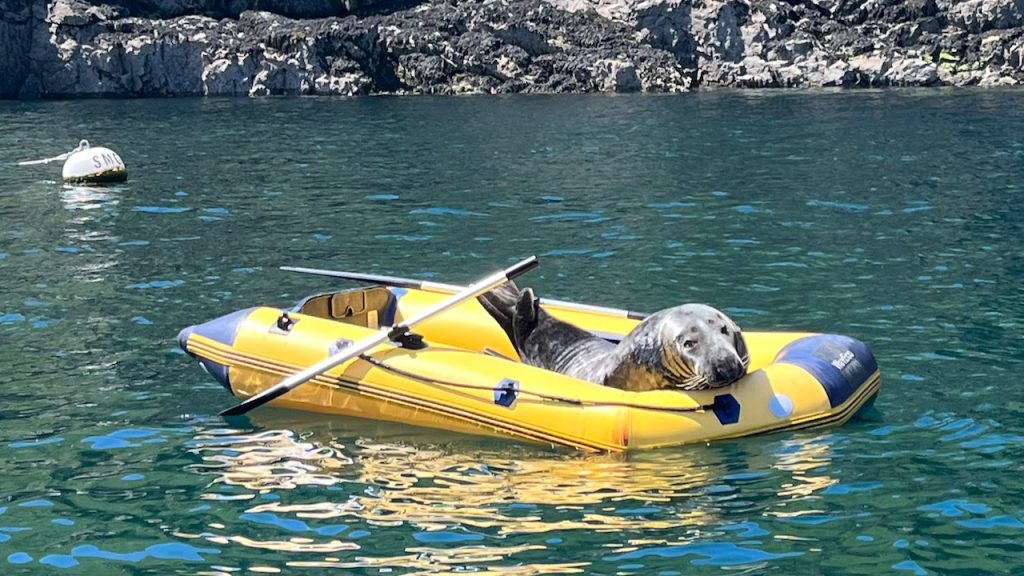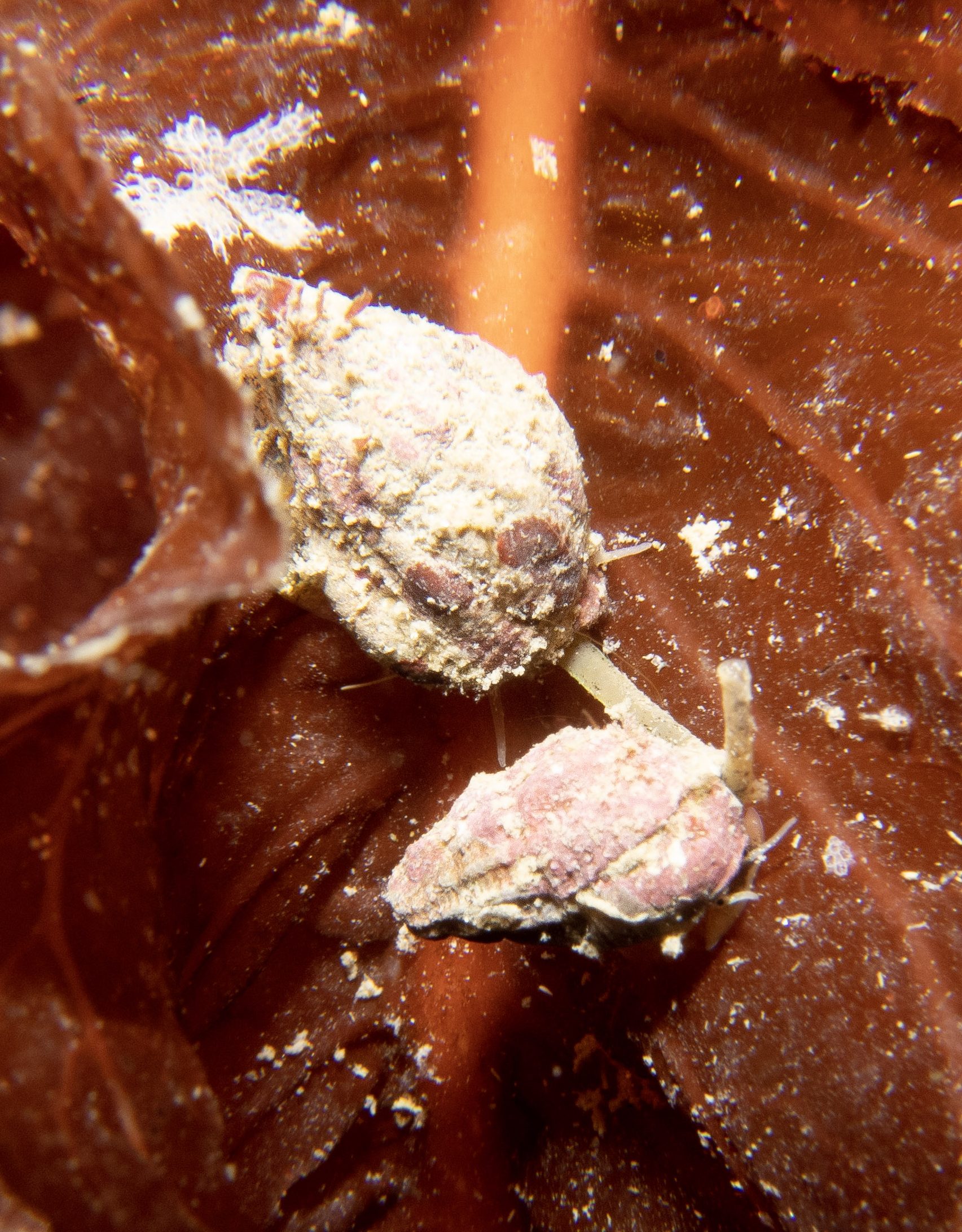 We then went ashore on Skomer island for a short stop [Ed: Pretty sure that was Martin's Haven on the mainland] where we were greeted by a seal sunbathing in a yellow dinghy. Next dive was at Stack Rock. We saw spider crabs, velvet crabs (including some fighting), lobsters, and edible crabs. Huge common prawns were hiding under the rocks, and dahlia anemones, sand mason worms and starfish were scattered around. We could also witness some sea snails having intimate moments.
In the evening we had a pleasant dinner and Niovi was signed off on her Dive Leader course, congrats again!!
Wednesday Day 4 diving
On our fourth day of diving, we made a very early start leaving with the 8 am lock for the SS Behar. It sank during the second world due to human error, carrying Harley Davidson bikes. Its remains are widely scattered on the seabed, and we found among others several kinds of nudibranchs and flatworms.
After a break at the small village of Dale we headed to Pains Rock rising from 30 meters to the surface. We dropped down past an abundance of jewel anemones, large dahlia anemones, and nudibranchs. Some lobsters, spider crabs and edible crabs were also to be found.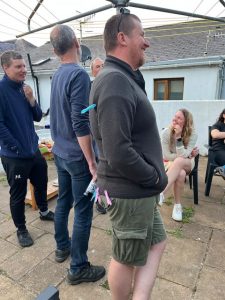 I unfortunately dropped my weight belt – you may find it on the next Clidive trip to Pembrokeshire at a dive site now marked as "Cathy's weight" in Clidive Yellow's navigation system (note to our equipment marshal Michael H: it has been replaced in the meantime). On our way back to Milford Haven we came across a huge pod of very playful dolphins near Skomer Island [Ed: Happy campers all round for that one!].
For dinner, while Mark K. handled the daily cylinder filling, Nick S. and his helpers arranged for a great BBQ at our B&B's terrace with some fun party games (… or maybe not so fun for the victims, sorry Mark O!).
Thursday Day 5 diving
Thursday's first dive was in Middle Island. During the dive Mark O sent his feedback on the dive site on a slate back to the remaining group on Clidive Yellow, while Niovi and I tried to find our way through the kelp. We saw lots of nudibranchs, sea urchins, light bulb sea squirts, anemones and again the occasional crab.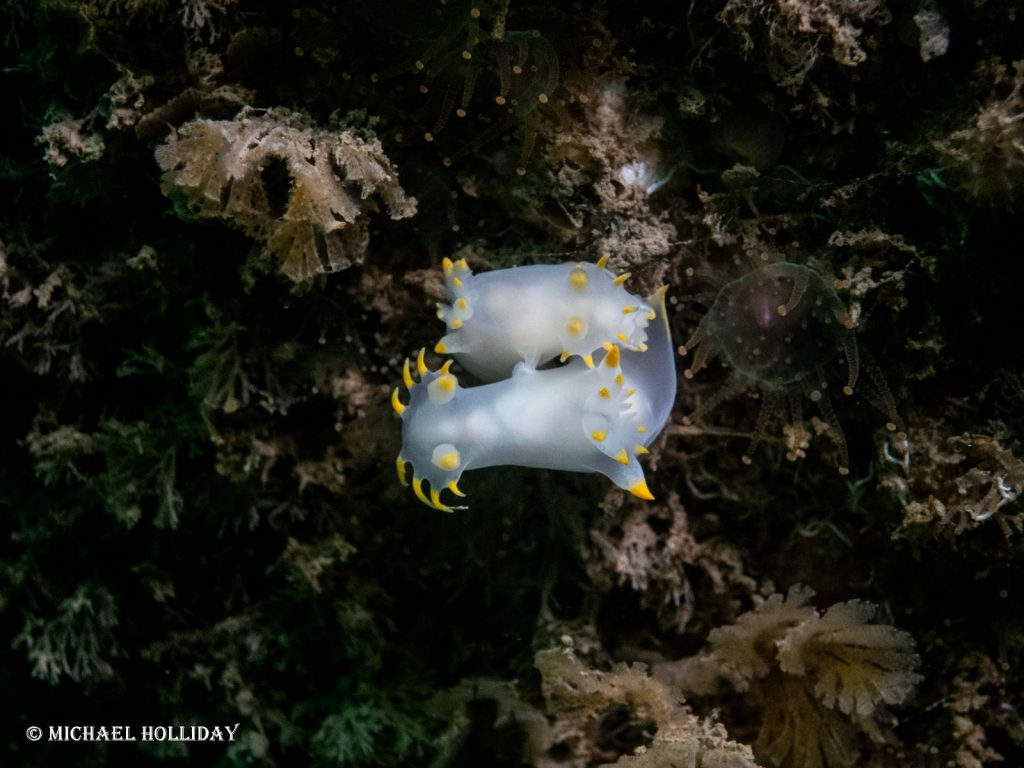 The second dive was at Wooltack Bay. We spotted scallops resting in the sand, and the rock walls were covered with anemones and nudibranchs. Some tiny crayfish made their appearance. Nick B also patiently tolerated my (successful) attempts at taking a selfie with a crab.
We finished the day again with an (in my opinion) even better BBQ than the day before.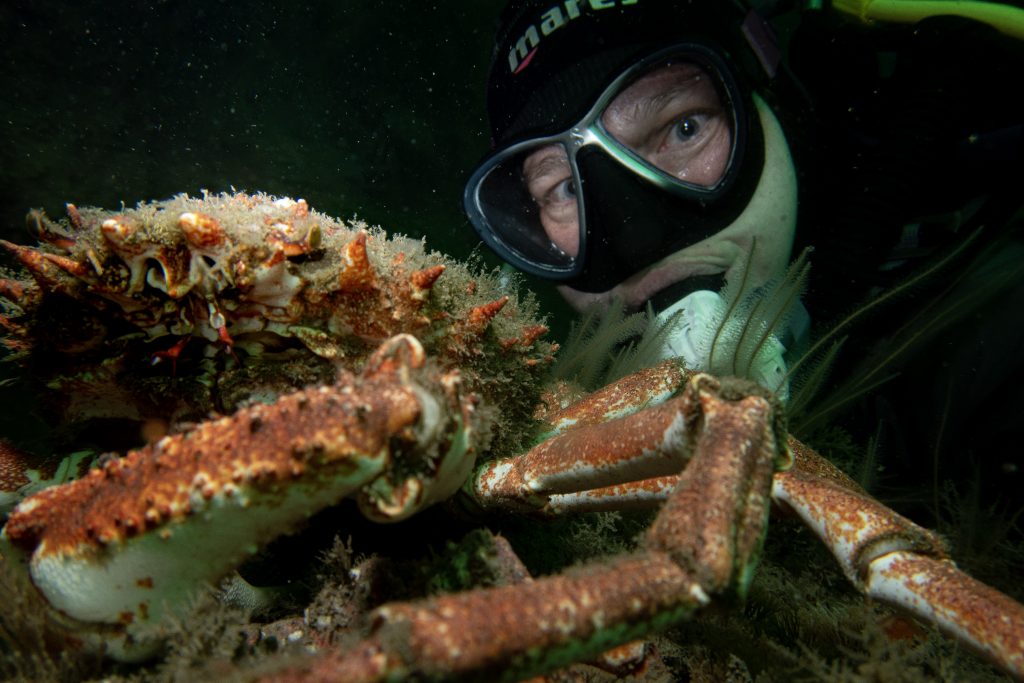 Friday Day 6 diving
On Friday, the last day of diving, we were joined by Sharky as our dedicated cox'n for the day.
In the morning we dived near Skokholm Lighthouse through canyons at a depth of around 20 meters. We found big crayfish (tried again the selfie), Bloody Henry starfish, lots of nudibranchs and a blue jellyfish on the safety stop.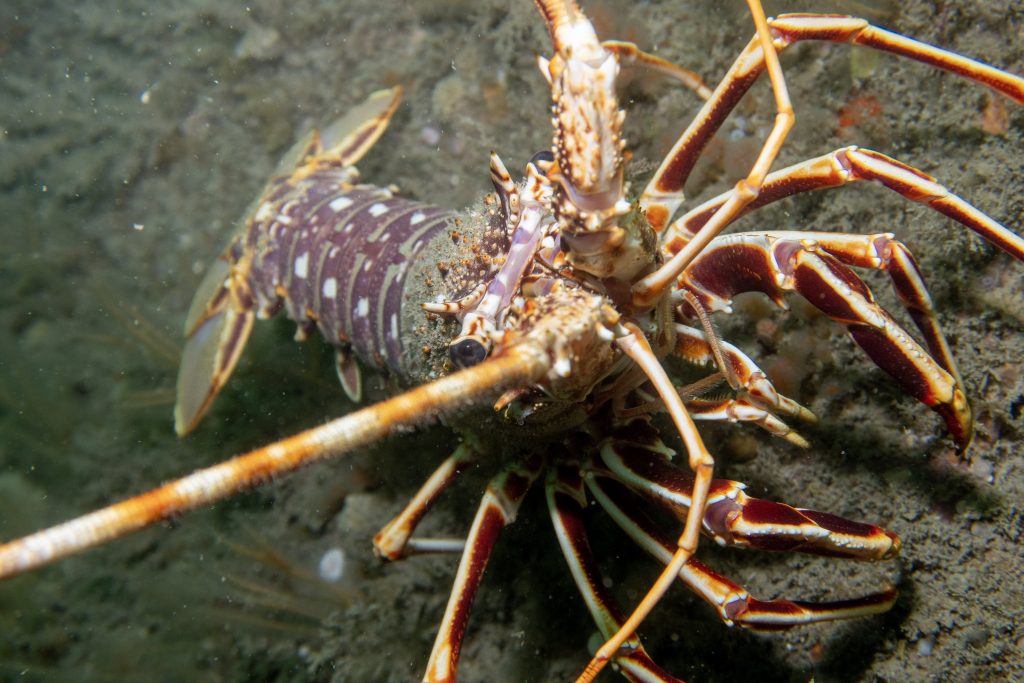 After lunch in Dale, we returned to the SS Behar for the last dive of the trip. This time we had a lot of current which led to some diver's swearing. The dive itself was challenging due to the current but the wreck was abounded with different types of nudibranchs and anemones.
Back in the harbour where we thoroughly cleaned and packed up Clidive Yellow for its next adventure.
Saturday marked the end of a great trip, and we headed home, with much less traffic around this time.
It was really amazing. Many thanks to the whole group for their good mood and having given a hand, and of course in particular to Nick B for his seamless organisation of the trip!