For the past 10 years, I've run a training trip to Gozo over Easter. Most years we have around 5 instructors and 10 trainees but this year was 3 instructors, 1 assistant instructor and 4 trainees, 1 qualified diver and a lovely little girl. It was the most chilled trip we've eve had. 10 days of utter bliss.
Maundy Thursday everyone flew out – starting with Preeda "That's so going on facebook" Harish Kumar the first with her 6am flight and finally Chris "Training officer" Wilson arriving last at 3am. Preeda had prepared a lovely meal for those of us who arrived at 10pm.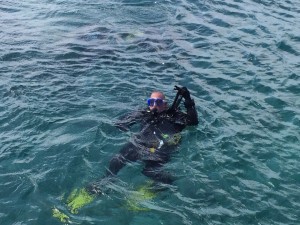 Good Friday kicked off with some easy diving at Hondoq to get kit sorted and weight correct. Normally we have lots of Ocean diver trainees and the kit faffing take hours but a small group and everyone already a diver, the time to water was the fastest ever.  Thanks to Franco, Brandon and Doris at http://www.divebluewaters.com/ for patiently kitting everyone out and getting them organised.
Everyone came out enthused asking "what was that fish" , "what a strange jellyfish".
I love the excitment of new discoveries.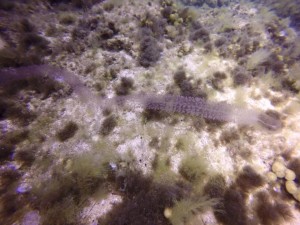 The sun was shining and the water temp was 15C so I was happy to see Joanne had opened the kiosk already so we had her famous Tuna Ftira for lunch. The afternoon was spent at Mgarr Ix-xini where we bumped into a huge group of BSAC divers from SUSAC. I went to say Hi and recognised Steve Capes, NI from my First Class prep. For the next few days we seemed to pick the same dive sites and it was great to have other divers to mingle with.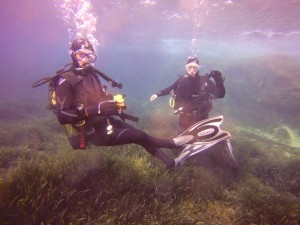 Easter Saturday we were joined by Elena who was visiting her family in Malta for Easter and came to join us for the day. We went to Xatt l'ahmar (Red Sand bay) – entry was quite a giant stride but exiting was tricky – they are called slipways for a reason! Luckily SUSAC had 4 kitted up divers at all time as a welcoming committee which was greatly appreciated. We headed back to Hondoq for the afternoon to do more skills for some and a boat trip out to the wreck of the P31 for others. A great site for the distance line and simulated deco dive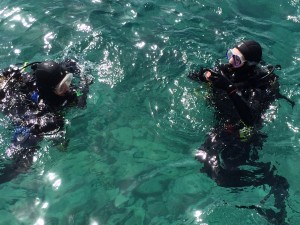 .
That night we stayed in and had a home cooked meal. This is one of the reasons I love clidive trips – great food shared with great company.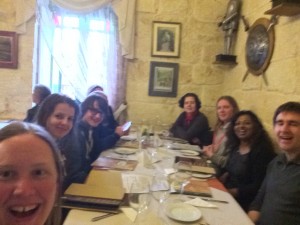 Sunday was looking like the only day we could get to the blue hole and the inland sea. Entry and exist were fine but the sea was rough – but everyone was experienced and was ready to take on the challenge. The Easter bunny made a surprise visit on the 2nd dive and the safety stops was vastly more entertaining with an easter egg hunt!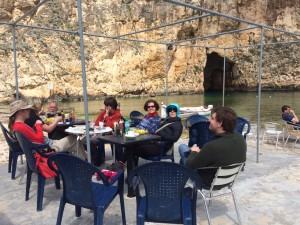 Monday – With a few days diving under their belt, the sports divers were ready for the final challenge – rescue skills. We spent 3 hours at Mgarr ix-xini doing nose sucking and rescue scenarios.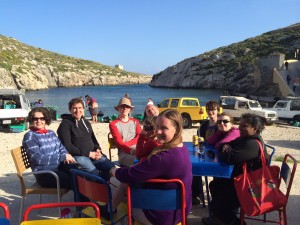 With that out of the way, we had 2 new sports divers – woo hoo! 2 down, 2 to go. Just a few more skills left until the girls were done.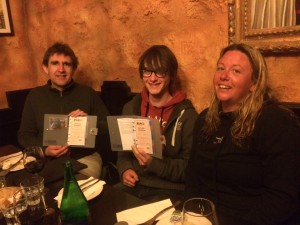 Tuesday we headed to middle finger – Ras il Hobz – a beautiful wall and pinnacle dive. Chris was heading home so kindly lent his drysuit to Ian "Harry Potter" Baker to do some drysuit training.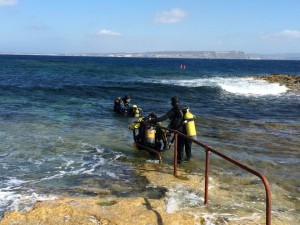 The afternoon felt like a good day to have an off gassing 24 hours and so we hired Quad bikes for the afternoon to explore the more remote parts of the island we hadn't seen yet.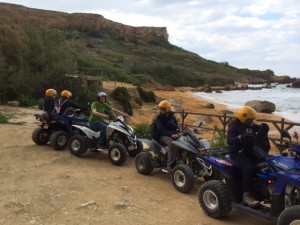 I love waking up early when I'm DM – a time of quiet to reflect on the day and to assess the conditions. The view from the roof lets you see how the sea is and the sunrises are great. I would text Preeda, who is an early riser and I'd hear the pitter-patter of her running up the stairs to come see sunrise.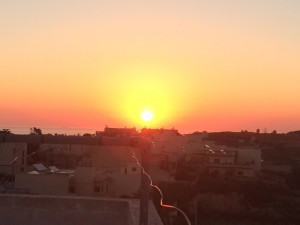 Wednesday the weather was still blowing from the North and so we repeated the southerly sites of Middle finger and the group voted they wanted to head back to the wreck of the P31. Bec cooked a lovely meal and Anne took her theory test – so we had a 3rd qualified sports diver.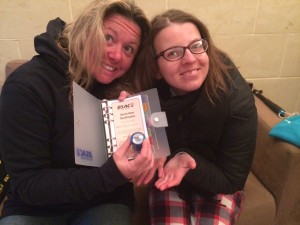 Thursday some of the group stayed on Gozo and went diving with the local guides. I promised the local guides would find them seahorses and they delivered :-) The rest of us headed over to Malta to dive the Um El Faroud. A tanker that exloded in Valletta in 1994 and was later towed out to see and sunk as an artificial reef.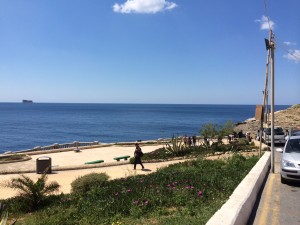 It's my favourite Malta dive and the 6:45am ferry start was worth it!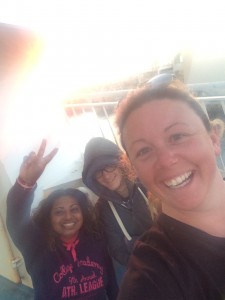 Now a week into the holiday and only a few days to go. The weather had changed so finally we could do the North coast. We headed to double arch at Xwenji bay. I had only ever dived it twice – with local guides – and not for about 7 years. I remember the last clidivers that tried and failed. It was a really long swim to it but I was ecstatic when the beautiful archway came into view. After a long, lazy lunch in the sun we headed to Cathedral cave but it wasn't calm enough – so we called up Jonathan and headed to Hondoq to jump on a boat and go do the Santa marija caves on Comino. It was Don's birthday so we had a fantastic evening in D-bar (they had made him a cake) and friends from Malta came over too – some of us rolled out the bar at 2am so decided to not dive the next day :-)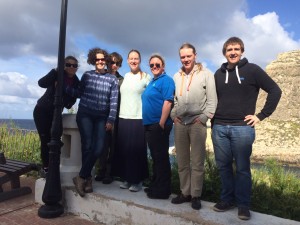 Saturday was a day back at the inland sea followed by Cathedral cave – another day of little wind and it was flat calm. It made the 100-odd steps all worth it to drift down the narrow canyon being blown gently by the breeze. The azure light in the cave was a stunning to everyone as always. Truly magical.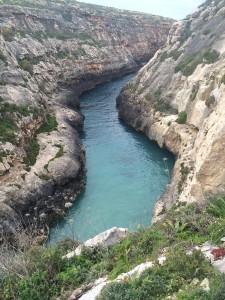 That night Bec passed her theory test and so all 4 trainees had passed sports diver – well done guys!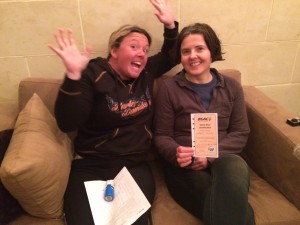 Our last day was a day of packing but we still managed a coffee at Hondoq and lunch at Xerri's to overlook the view at the beautiful blue lagoon.
Until next time Gozo – we love you and miss you.