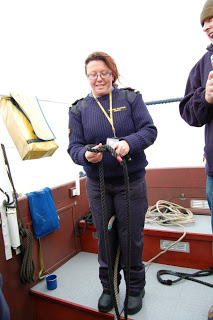 6 Clidivers and a member of Ruislip BSAC embarked on a voyage of chart discovery last weekend!
With the theory on Saturday and the voyage planned, they set off on Sunday for a day crusing along the Thames.
When not plotting the course and fixing our position, students were entertained with knot tying, taugt to helm Londinium 1 a 45′ Nelson, extra theory lessons were given to finish off DT8, DT12 and a chance to practice VHF calls to request permission to go through the Thames barrier.
A fun day was had by all and a total distance of 60 nautical miles!
Thanks to Maritime Volunteers Service
www.mvsthames.org.uk
City of London unit for supplying boat and crew. Another great collaborative effort :-)