6 keen divers from Clidive joined the MVS (www.mvslondon.org.uk) for a fun weekend on the Thames learning how to drive RIBS.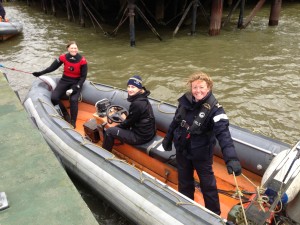 This is the 10th course the Clidive and the MVS have run in the past 5 years for divers and it's a hugely popular course.
The lectures were held on MVS vessel Londinium 1 in small groups of 3 – where better a classroom than on a hardboat gathered around the chart table overlooking the Thames!
All 6 spaces on the course were filled within 10 minutes of advertising this date.  It's so popular we have added 2 more dates on 15/16th March and 5/6 April.
With 4 instructors on hand, we even managed to fit in some Diver Coxn practice for experienced boathandlers using one of our Diver coxn assessors whilst the other instructors did the theory lectures.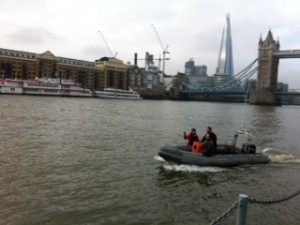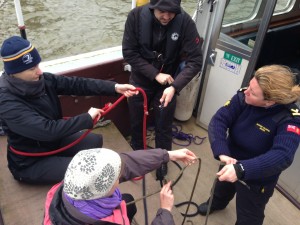 Candidates will learn ropework, knots, voyage planning and then at least 2 hours each of hands on practical experience of sheltered and open water handling, high speed turns, mooring, man over board, diver drop off and pick up (not real people for this intro course!).
The sun shone and the shard was looking particularly spectacular – lessons had to be interrupted for a quick photo shoot!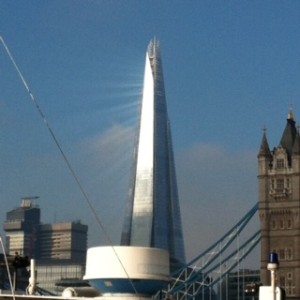 The weather forecast for the weekend was snow so everyone was warned to dressed warm but in reality we should have brought the suncream!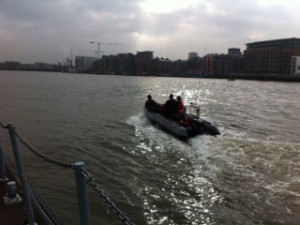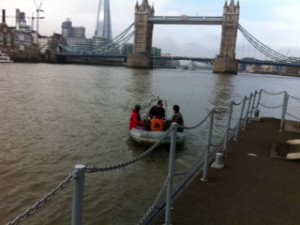 A fun and informative weekend rounded off with a well deserved pint in the Dickens Inn.