by Anne & Preeda
To finish off the 2015 dive season in style Clidivers organised yet another trip to sunny Newhaven.  With last minute weather forecast being unpredictable only two die hard Clidivers were brave enough to embark on the trip, and what a magnificent trip it was, to bring the Clidive 2015 dive calendar to a close!
The Saturday start was at leisurely 12:30 ropes off, so we had plenty of time to have a lie in and a lazy breakfast. The morning was beautiful, warm and sunny, so our initial weather related worries were put to rest.  We motored out to the site of the SS Clodmoor, the sea was flat calm and a closer to blue than green (or brown), an excellent sign. We could not contain our excitement!
Dive 1, Dive 1 – SS Clodmoor Wreck
This was a well preserved and rather large wreck. The visibility was great, in fact the best one we have experienced in Newhaven this year. The SS Clodmoor was a steamer, built in 1902; she spent most of her days carrying wheat until 3 May 1917 while on route to Newcastle was torpedoed 5 miles south of Newhaven. Although powered by a triple expansion engine, this was nowhere to be seen during the dive.   The water temperature was about 15 degrees! The wreck had great variety of life, including a massive lobster, lots of edible crabs, hermit crabs, cheeky lobsters, huge shoals of wrasse, bibs, seabass & Pollock!  We could not believe our luck and was just in awe of the life around the wreck.
Back on board the Sea-zones, Mick our skipper had our hot chocolate and home-made scones ready for us, which we devoured very easily.  The dive was incredible with so much to explorer that we could not wait to tell the skipper – who laughed at our child-like excitement trying to explain everything we saw!  After our surface interval was over, we got ready for our 2nd dive which is usually a drift.
Day 1, Dive 2 – Seaford Drift Dive
The second dive of the day was a drift dive at Seaford Ledges.  We decided to use the inflated DSMB we used in the first dive and entered the waters holding onto our DSMB so the skipper knew exactly which direct we were drifting. We were drifting in and out various ledges trying not to get in the way of the thousands of mating velvet crabs.  Anne could not contain her excitement!  The mating crabs ignored us drifting gently passed them, as they had other things on their mind.  The crabs who were not mating – Anne wanted to take a closer look at them but they were in fighting mood and did not want to be stared at while they were looking for a "booty call"!  Some of the ledges were deep about a couple of metres high.  This area has hundreds of wrecks and hence there was ancient wood & boat parts littered all over the site, we had fun trying to spot as many as we can!  There was also hundreds of hermit crabs, and we saw a few strange yellow spider crabs.  Suddenly we spotted a huge anchor stuck between 2 ledges, as the drift was so gently we were able to hang around to take a closer look – we were soo excited at finding it – it was as big as sea-zones!
After the dive we could not wait to tell Mick our discovery.  Mick knew the anchors around the area; the one we found is visible from one of the Seven Sisters during spring low tide.
We were ready for dinner and a relaxing evening.Having finished our diving quite early, we went back to the dive centre to leave our kit there for the next day and return cylinders.  Anne was given new dive boots by the dive manager which made her very happy.
On Sunday our friends from previous dives joined us.  Two Lithuanian tech divers who always come prepared to hunt crabs and lobsters!  Two divers from Sudbury Scuba – who made us laugh until our sides hurt!
Day 2, Dive 1 – Lancer 2-Wreck
The Lancer 11 was an Admiralty trawler and sank after a collision on July 18th 1918. The wreck rests in 27mtrs of water and is upright with the bows very intact & breaks down as you get to the stern, she is a small wreck of 275 tons. It was lovely looking wreck, decent sized, well preserved and with plenty of life. Few large moray eels were spotted as well as many big tompot blenny's. It was Anne's favourite wreck seen in Newhaven this year, mainly because it was so well preserved. Also the visibility was great allowed us to fully admire the site.  There was far more life here than I remember from previous dives.
After we got back on board the sea-zones for our surface interval, our tech friends had caught lobsters and crabs to feed their families.  We all could not wait to tell each other what we saw and 'discovered' during our dives which drinking our hot beverages all part of the service.
After hearing about our discovery of the huge anchor everyone wanted to try and find it again.  Therefore our 2nd dive was a drift back to the seaford ledges.
Day 2, Dive 2 – Seaford Ledges (drift)
The visibility was not as great as on Saturday, but still we had great fun swimming in and out of various ledges.  All of was trying to see if we could spot the anchor while gently drifting, but alas we could not find it again but had enormous fun trying to find it!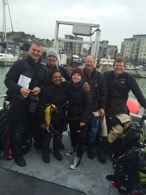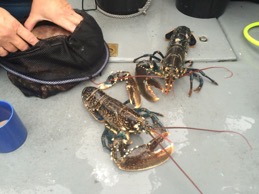 Having finished our two days of diving we headed back to London with a firm thought that we will be back as early as we can next year to new adventures and "discoveries".  Hope you can all join us!