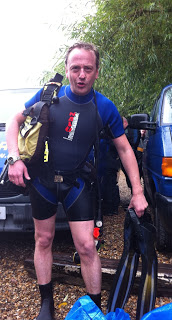 On Saturday 16th July, a few clidivers headed off to Wraysbury to get trained.
I am pleased to say that Tricia completed sports diver :-)
Alberto began sports diver. He is featured here – the water was 20 degrees and said to Ablberto that it's currently like a bath – much warmer than Plymouth was at easter (9 degrees) – she didn't expect that he would then turn up in a 3mm shorty. ;-)
It was a cold, rainy day which meant that Joli (as shore cover) got soaked whilst looking after all the kit – when the others went diving.
Nick also managed to do OO1 and OO2 despite wraysbury living up to it's reputation of being a muddy puddle – he certainly gets his "low vis" dive signed off ;-)
Thanks to Natascha for teaching (in a soggy drysuit again)