A persistence of the fine, windless weather meant that kitting up and departure happening in lightening quick time due to the clouds of voracious biting midges. However unpleasant these mini-flies with attitude may be, we have been learning to embrace them and the still air they herald. Accelerating quickly to leave them behind we made way into the flat calm Burra Firth en route back to Muckle Flugga.
The dive was another stunner – free-falling 25 metres into a colourful gorge and then climbing out of it to drift along plateaux and pinnacles, hovering above sheer drops to 70 metres and more, shoals of fish streaming with the current. Over lunch the boat was transferred to Baltasound while we used our newly delivered compressor to pump cylinders.
The afternoon dive was a 'recce' on the mined British WW1 submarine, the E49. Stopping by to pick up a family of variously cute Belgians from their yacht to give the parents an opportunity to dive together, we kitted up in luxuriously calm conditions before leaping in and parachuting down the shot. Although visibility wasn't as good as it can be, the wreck was impressive – the outline of the vessel, the conning tower and the anchor in stark relief to the silver sand of the seabed. She is largely buried in sand with the topmost portion of the superstructure visible and the bow section, blown off in the sinking, laying around 12m away.
The star of the day has to be Nick, who speaks ten words of French, the babysitter for the Belgian children during our dives. His creativity in flicking chocolate Lucky Stars into the water and then tracking them on the echo sounder rivalled circus clowns in the realms of children's entertainment.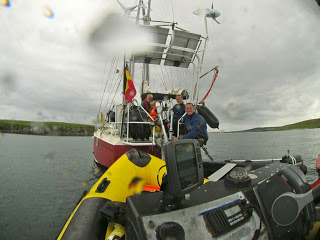 This trip, of course, is an expedition and the E49 is the subject of a survey. Therefore, three of us and a boat handler went back in the late afternoon armed with nitrox gas mixes and measuring equipment in order to trial scaled photography techniques. What luxury to be kitting up in a motionless and near empty boat! The scene was atmospheric in the low light and the absence of other divers had improved the visibility. A large resident ling gazed on as we went about our tasks. To round off a long but rewarding day we made it back in time for dinner at the local bar.