Flat calm seas. Hooray. Straight to the Runnel Stone, 10 miles along the coast from Penzance. What a top dive. Despite the viz being a bit lower than we have seen the rock was dripping with life. The plumose and jewel anemones seem super large. The colours are day-glo pink, orange, lime and yellow fusing with the more gentle purples, reds and whites. Some of us dive the wreck of the City of Westminster while others hang out on the stone absorbing the scenic action.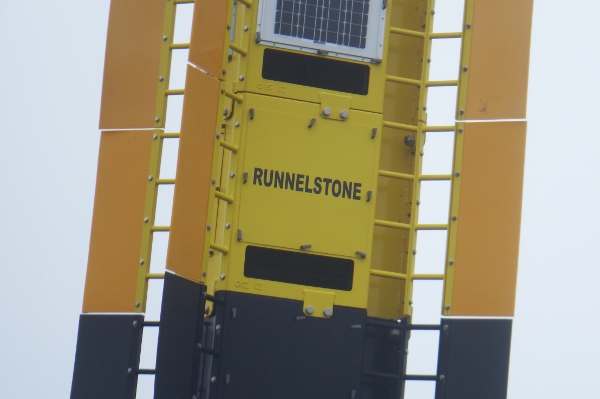 We are pleased to hear the familiar moaning of the Runnel Stone Buoy fog horn, returned to its former glory.  It is quite needed today as well – typically we have a perfect sea state – but it is a bit misty. No deco today. They yellow and black and the font on the buoy reminds us of something.
We anchor up and swim in to Porthgwarra for pasties. Just before we arrive a party of 12 German  hikers walking the coastal path turn up – so we have a long wait for lunch.
After eating we head for Long Ships another five miles round the coast and a mile and a half off Land's End. Along the way we spot a baby basking shark and drop in with our snorkels hoping to see it underwater and take some pictures. No luck today. On to the lighthouse. Just as the first divers are about to enter the water a fog descends so thick we have to call the dive. This is a big disappointment as we so much wanted to do this dive. Bummer. The light house disappeared before our eyes.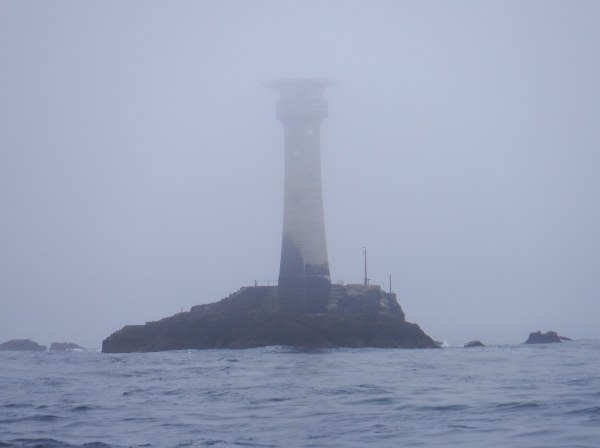 Back along the coast to Rory's Bluff. The viz here is much improved at 8-9m+. Mary and Warwick see several lobsters including a 'baby' one – something they had never seen before. This site is also great for conger, ling, cuckoo wrasse and sand eels.