Excellent time in Plymouth this weekend diving the JEL, Eddystone Anchor Alley, the Persier, Hilsea Point, the Rosehill, the Scylla, Eddystome East Pinnacle, the Elk and Elk Reef. The poor old James Egan Lane has taken a battering over the winter. There is a big bit on the port side just peeled away like a tin can lid and the bow is looking fragile. A couple of very large squid have taken up residence and gave a colourful display to all who spotted them.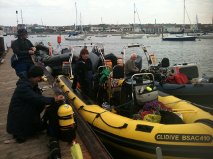 In Deep excelled themselves in customer care, collecting our cylinders on trolleys as the boats pulled in. A very welcome new feature!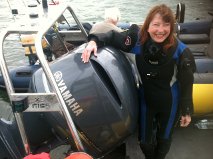 To appreciate the size of our new engine, you just have to give it a hug.